PLC Service provides transition to new platforms.
Press Release Summary: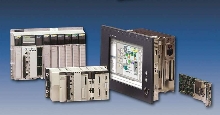 Validatable PLC service allows companies to update from legacy systems with Modicon® PLC platforms to Modicon Quantum IEC-based system that complies with FDA regulations, a validation environment, S88 model, and 21 CFR Part 11. Service facilitates upgrade of processors, I/O, and other components of process automation system.
---
Original Press Release:

Schneider Electric's Validatable PLC Process Provides Smooth Transition from Legacy Systems to New PLC Platforms


Palatine, Ill. - March 16, 2004 - Schneider Electric has introduced a new service that allows customers in the pharmaceutical and other critical process industries to easily update their legacy systems without expensive and time-consuming re-validation. The Validatable PLC service is designed for companies who want to upgrade their systems with new Modicon® PLC platforms that comply with current standards dictated by FDA regulations and manufacturing quality processes.

The Validatable PLC service enables I/O cards installed as long as 30 years ago to be connected with the newest automation technologies. It preserves customer investments in system validation while facilitating the upgrade of processors, I/O and other components of process automation systems.

Converting a PLC system requires procedures that ensure optimal results with minimal downtime. In fact, in some batch process applications, the time frame available for converting an existing application is less than 15 minutes, requiring proven processes and in-depth knowledge of the process automation system. The Validatable PLC process offers Schneider Electric customers a way to easily convert from legacy Modicon PLC platforms to a Modicon Quantum IEC-based system that complies with FDA regulations, a validation environment, the S88 model and 21 CFR Part 11.

Working through its nationwide network of authorized system integrators, Schneider Electric's Industrial Applications Team serves as project managers, assisting with the design of new systems as well as intelligent upgrades to existing systems. The team provides technical support to local integrators in new system architecture design and tools that allow an object-oriented approach, while helping customers through the steps dictated by the S88 model. The S88 modular structure offers quicker development time, minimizes individual programmer idiosyncrasies, simplifies code maintenance and provides predictable control behavior, saving time and money.

Schneider Electric validates the PLC code and each of the changes in order to have systems quickly ready for implementation in designated plants. The rigorous process addresses key elements implicit in preserving customers' validated solutions, including:
· Defining and aligning the purpose of the modules
· Establishing the use of each module by defining how it interacts with other modules
· Determining if a module can be portable
· Designing and defining modules to take full advantage of equipment capability
· Defining modules to be independent in their abilities, and
· Ensuring modules allow capacity expansion of a process by adding and/or copying existing modules.

For more information about the new Validatable PLC service, call 1-919-855-1100 or visit us.Squared.com/iat.

Headquartered in Palatine, Ill., the North American Operating Division of Schneider Electric had sales of $2.5 billion in 2003. The North American Operating Division is one of four geographic divisions of Schneider Electric, headquartered in Paris, France, and markets the Square D, Telemecanique and Merlin Gerin brand products to customers in the United States, Canada and Mexico. In the United States, Schneider Electric is best known by its flagship Square D brand, with Telemecanique becoming increasingly known in the industrial control and automation markets and supported by many Square D distributors. For 100 years, Square D has been a market-leading brand of electrical distribution and industrial control products, systems and services. Schneider Electric is a global electrical industry leader with 2003 sales of approximately $9.9 billion. Visit Schneider Electric at us.SquareD.com, www.us.telemecanique.com or www.us.schneider-electric.com.

More from Food Processing & Preparation