PLC Series incorporates Ethernet network interface.
Press Release Summary: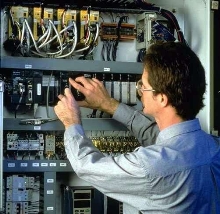 Series 90(TM)-30 is available with Ethernet Network Interface Unit (ENIU) that lets users connect I/O over Ethernet to master controller through one point of connect. With communications module, users can connect programmer anywhere on I/O network and monitor, configure, and troubleshoot any ENIU or master controller. Module allows up to 2,048 discrete inputs and outputs, 1,264 analog inputs, and 632 analog outputs per drop. Redundancy is standard.
---
Original Press Release:

GE Fanuc Adds New Ethernet Network Interface Unit to Series 90(TM)-30 Controller Family: ENIU Offers Single Point of Connect to Save Time, Reduce Costs


CHARLOTTESVILLE, VA, JULY 19, 2005 - GE Fanuc Automation Americas, Inc., a unit of GE Infrastructure, has enhanced its Series 90(TM)-30 programmable logic controller family with a new Ethernet Network Interface Unit (ENIU). This high-performance communications module enables users to connect Series 90-30 I/O over Ethernet to a master controller through a single point of connect - which helps save configuration time and reduce overall components to decrease costs. Users can connect the programmer anywhere on the I/O network and monitor, configure, and troubleshoot any ENIU or the master controller, reducing downtime and machine commissioning. For easy implementation of the Series 90-30 ENIU, GE Fanuc's Proficy(TM) Machine Edition software offers powerful configuration tools in a universal development environment.

Now available, the Series 90-30 ENIU features a built-in Ethernet switch with two (one IP address) 10/100Mbit ports (RJ-45), allowing the user to daisy chain to the next ENIU without the need for expensive external switches. The ENIU can be expanded with up to seven local I/O expansion bases with a total of 70 I/O modules per drop. GE Fanuc offers a wide range of discrete and analog I/O modules to accommodate a variety of applications. For quick startup, installation requires only standard Ethernet components without the need for specialty connectors or external devices. This new module also allows up to 2048 discrete inputs, 2048 discrete outputs, 1264 analog inputs and 632 analog outputs per drop.

For high availability, the new ENIU provides redundancy as a standard feature. Additionally, the device includes hold-last-state or default state functionality to protect the system if communication is lost from the controller. When an application uses two controllers, the Series 90-30 ENIU can detect a failed controller and automatically switch to the backup.

The ENIU is ideal for applications requiring remote high density I/O per drop over a high-speed network. Typical applications include material handling, process control, packaging, and assembly machines where control I/O is dense per drop, decentralized and requires high data transfer speed. The additional advantages of compatibility with standard off-the-shelf Ethernet components and a built-in switch further reduce the cost of implementation.

To meet specific application needs, the ENIU network is compatible with any combination of GE Fanuc Ethernet remote I/O, including VersaMax® and VersaPoint(TM). The ENIU is also compatible with master controllers that support Ethernet Global Data such as the PACSystems® RX7i and RX3i for the most complex applications, Series 90-30 CPU364 and CPU374, Series 90-70, PC Control and industrial PCs.

About GE Fanuc Automation

GE Fanuc Automation, a joint venture between GE and FANUC LTD of Japan, delivers automation hardware and software designed to help users reduce costs, increase efficiency and enhance profitability. With solutions and services catering to virtually every industrial segment, GE Fanuc Automation provides a diverse array of capabilities and products, including controllers, embedded systems, advanced software, motion control, CNCs, operator interfaces, industrial computers, and lasers. Headquartered in Charlottesville, VA, GE Fanuc Automation is a part of GE Industrial and combines the diverse global strengths of the GE family with the local presence customers need to design, develop and maintain their automation investments.

For more information, visit www.gefanuc.com or contact: GE Fanuc Information Center, P.O. Box 8106, Charlottesville, VA 22906, Phone: (800) GE FANUC (800-433-2682), Fax: 434-978-5205, e-mail: [email protected].

Series 90, Proficy and VersaPoint are trademarks and PACSystems and VersaMax are registered trademarks of GE Fanuc Automation Americas, Inc. All other trademarks are the property of their respective owners.