PLC-Compatible Modem enables remote servicing.
Press Release Summary: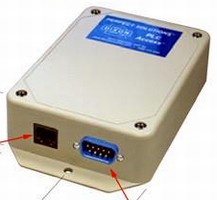 PLC Access® Modem reprograms PLC control programs operating machines located at remote locations. Compatible with PLCs from Allen-Bradley®, GE Fanuc®, AutomationDirect.com®, and Siemens®, product enables remote user to connect to machine's PLC panel through programming port and analog telephone line and perform necessary modification, correction, or troubleshooting of ladder logic program. Modem is furnished with 120 Vac power adapter.
---
Original Press Release:


Dixon Automatic Tool Inc. offers PLC compatible modem




Dixon Automatic Tool, Inc. founded in 1946, specializes in automated assembly machines and systems has developed the PLC Access® Modem to reprogram the PLC control programs operating machines located at a remote location. Use of the PLC Access® Modem enables a remote user to connect to a machine's PLC panel through a programming port and analog telephone line. Modification, correction, or troubleshooting of the ladder logic program can all be accomplished via this remote connection. This invaluable tool permits customers to service their machines without sending for a service technician, saving time and travel costs. The Dixon's PLC Access® Modem is capable of being connected to the leading brands of Programmable Logic Controllers being used in industry.

Complete specifications of for the Dixon PLC Access® can be found on the Dixon website, http://dixonautomatic.com/modems.cfm

Installation and Programming Instructions
Before starting the remote reprogramming procedure, a telephone connection between the Controls Engineer and the Technician at the machine site must be maintained at all times through out the process.

To begin the process at the machine, a telephone line or suitable line for a fax machine/PC connection allows the Modem to reprogram or service a PLC control panel from a remote location. The technician at the control panel will take the following steps to prepare the control panel to be serviced from a remote location.

o Plug the 120VAC Adapter to the PLC Access ® Modem, and into a 110-outlet source.

o Connect the telephone line to the RJ-11 phone jack on the Dixon Access® Modem.

o Connect a programming cable (as specified by Allen Bradley, G.E., or Automation Direct, see list above) to the PLC (programming port), and to the DB-9 connection port on the Dixon PLC Access® Modem.

o Make sure the machine control is in "manual mode" for the servicing process.

o Inform the Control Engineer on the telephone that the control is now ready for the reprogramming process.

The technician must stay at the machine while the Control Engineer (at the remote location) makes the necessary changes to the control circuit. The technician must ensure that conditions at the machine are safe before cycling the machine during the reprogramming process. It may be necessary to remove tooling, various mechanisms, etc. to avoid any accidental machine damage during the reprogramming procedure.

Connection Information
The Dixon PLC Access® Modem is furnished with a 120VAC Power Adapter.

PLC Compatablity
PLC Access® Modem is compatible with many of the leading manufacturer's PLC's. The following is a brief listing of the most common PLC manufacturers and the associated Dixon PLC Access® Modem part number:

Allen-Bradley®
MicroLogix 1000,1200, & 1500
SLC500 Series 503,504, & 505

GE Fanuc®
Series 90 Micro, & Series 90-30

AutomationDirect.com®
Series 100, 200, 300, 340, and 350

Siemens®
Simatic S7-200 Series


More from Communication Systems & Equipment