Platinum Tools® Shows Complete Start-to-Finish Connectivity Options at 2016 ISC West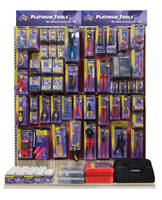 Modular Plugs, Cat6A Connectors, Boots, Strain Relief, Connectors and Installation Hardware for Datacom, Telecom, Video, and Other Installation Applications are Available



NEWBURY PARK, Calif.  - Platinum Tools® (www.platinumtools.com), the leader in solutions for the preparation, installation, hand termination, and testing of wire and cable, provides complete start-to-finish connectivity options with unparalleled selections of standard modular plugs, Cat6A connectors, boots, strain relief, and connectors for datacom, telecom, video, and other installation applications. Platinum Tools will feature these lines during ISC West 2016, held in Las Vegas, Nev. from April 6-8 at the Sands Expo and Convention Center, booth #5036.



"In today's world of communications, the choice of cable to use is twisted pair," explained Sean Rothermel, Platinum Tools product manager. "Once the right cables are selected, the right connectors need to be implemented and this is where Platinum Tools can help. We now offer not just the right connector, but all the right tools, as well, to make the installation perfect the first time, every time."



Platinum Tools' traditional crimp WE/SS-style modular plugs are for use in terminating cables in both telephone and data applications. They include multiple position and contact configuration styles, such as round and flat cable versions, 2-prong stranded conductor contact, and the 3-prong solid conductor contact. The 3-prong gold-plated contacts provide reliable performance and long life and comply with the FCC 68 guidelines. They are UL listed, have a flammability rating of UL94V-0, utilize polycarbonate and phosphor bronze materials, and have 50µ; and 15µ; gold plating.



"Our RJ45 Cat6A 10-Gig shielded connectors work with larger cables, such as Cat6E, Cat6A, and Cat7," Rothermel continued. "These connectors deliver the performance needed to stream large data, audio, and video files. They exceed 10-Gig performance standards, and are UL and RoHS compliant."



With the ever increasing use of longer and additional wires and cables in datacom, telecom, and video for commercial, residential, and security installations, the chances for broken or damaged connectors, as well as tangled and snagged connectors, also increases.



"Our line of RJ45 Boots prevent tangle messes, eliminate broken release/locking tabs, help maintain radius bend, relieve cable stress, cover the external ground on most shielded connectors, and are color-coded, as well," Rothermel explained.



The RJ45PVC Boots are available in black, white, red, orange, blue, gray, green, yellow, and purple. Boot sizes include 5.5mm / 0.217 inch (typically for Cat5e), 6.0mm / 0.236 inch (typically for small Cat6), 6.5mm / 0.260 inch (typically for medium Cat6), and 7.0mm / 0.275 inch (typically for large Cat6). These boots are also available in larger OD sizes including 7.5mm, 8.0mm, and 8.5mm (typically for Cat6A) and are available in red, black, and blue.



"Safe and secure networks, large or small, in today's world are top priority, as well," explained Rothermel. "Our new EZ-DataLock Strain Relief has been designed to protect and secure a data network 24/7 by locking cables in place so they can't be disconnected. When locked, the cable will remain so until the 'Key-Holder' unlocks it. It also doubles as a snag-proof strain relief. Its patented design prevents accidental cable disconnects, malicious disconnects, unauthorized access, downtime, and tampering in numerous applications, such as in data centers, commercial and professional environments, military, medical centers, monitoring devices, financial, transit, government, and manufacturing centers and institutions."



EZ-DataLock Strain Reliefs are available in two sizes and work with Platinum Tools EZ-RJ45® Cat5e connectors, all standard RJ45 (all brands including Platinum Tools) and Platinum Tools EZ-RJ45 Cat6 connectors. Specifications for the EZ-DataLock Strain Relief include patented 'OD-Flex' technology allows for wide range of cable OD sizes (maximum cable OD: 6.8mm /0.268 inch; minimum cable OD: 5.0mm /0.197 inch); made with polycarbonate materials; and are UL, RoHS, CSA and CE compliant.



And, of course, Platinum Tools offers all of the necessary tools and kits the professional installer requires, such as the All-In-One Modular Plug crimp tool, the Tele-Titan™, the Tele-TitanXg™, the Tele-TitanXg™ 2.0 Cat6A/10-Gig crimp tools, and more.



"Lastly, for our full line of J-Hooks, Bridle Rings, and hanging hardware, we now provide an application guide to match the correct accessories to help ensure all installations, no matter the applications, are efficient, professional, and worry free."



For additional pricing and more information on Platinum Tools and its complete product line, please visit www.platinumtools.com, call 800-749-5783, or email

[email protected]

.



About Platinum Tools

Platinum Tools, founded in 1997, was created based upon two very simple objectives. First, develop the absolute best possible solutions for the preparation, installation, and hand termination of wire and cable. Second, implement an operational infrastructure that can deliver these products in an efficient, timely, and high quality manner.



All of our products must absolutely satisfy three critical benchmark criteria: utility of function, quality of function, and economic value. Our people are our company. They, too, must be focused on and work to satisfy three critical benchmark criteria: customer satisfaction, product knowledge and expertise, and willingness to learn and adapt.