Platinum Tools® Launches New Scissors and Kits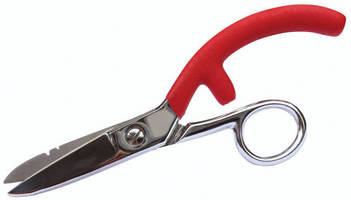 From Ergonomic to Scissor-Run to Free-Fall,Platinum Tools has the Right Scissors for Every Tool Belt

CAMARILLO, Calif., March 26, 2012 - Platinum Tools® (www.platinumtools.com), the leader in solutions for the preparation, installation and hand termination of wire and cable, is proud to announce the launch of its new scissors and kits.

"Whether you are a Security, Telecom, Datacom, or Electrical installer, your tool belt needs a good pair of scissors," explained Lee Sachs, Platinum Tools, Inc. president and general manager. "From ergonomic to scissor-run or free-fall, Platinum Tools has it all. Made in the U.S.A., choose them separately or combine your choice with a cable splicer's knife and a durable leather belt pouch for a simple, convenient solution."

Ergo Electrician's Scissors (part # 10515C)

A total ergonomic design that is outside the box thinking. It will feel like it was custom made. The cushioned grip non-slip handle adds extra leverage for easy cutting, less wrist stress, and no pinch points. The professional installer's choice.

Leather Pouch, Knife and Scissors Kits

These kits provide simple solutions for the professional installer. Each kit includes a 6-inch nickel plated cable splicer's knife with a comfortable, non-slip grip, weighted handle, and your choice of scissors in a durable leather belt pouch.

Scissor-Run Scissors; 5-inch (part # 10517C)

An original favorite, this smooth cutting action, scissor-run design is excellent for cutting Kevlar®, foil, and wire. Cuts solid wire up to 16 AWG and stranded up to 12 AWG. Strips 19 and 23 AWG.

Free-Fall Scissors; 5-inch (part # 10518C)

The Free-Fall design makes it a true, security and telecom scissor. Hold the point of one blade straight up and the other at 180 degrees, and then let it drop; it free falls and stop ¼-inch from the point enabling the technician to use their fingertips to operate the snips.

Additional features of the new scissors and kits include:

o No pinch points, Ergo

o No-slip cushion grip, Ergo

o Extra cutting leverage, Ergo

o Free fall design, Ergo and Free-Fall

o Full serrated bottom blade for non-slip cutting

o Scraper and file on backside of blades

o Inside blade is chrome plated for rust protection

o Easily re-sharpens & holds cutting edge

o Stripping notches for 19 & 23 AWG wire

o Screw permits easy adjustment

o Through hardened

o High carbon steel

o Cuts solid wire up to 16 AWG

o Cuts stranded wire up to 12 AWG

For more information on Platinum Tools and its complete product line, please visit www.platinumtools.com, call (800) 749-5783, or email info@platinumtools.com.

About Platinum Tools

Platinum Tools, founded in 1997, was created based upon two very simple objectives. First, develop the absolute best possible solutions for the preparation, installation, and hand termination of wire and cable. Second, implement an operational infrastructure that can deliver these products in an efficient, timely, and high quality manner.

All of our products must absolutely satisfy three critical benchmark criteria...utility of function; quality of function; and economic value. Our people are our company. They, too, must be focused on and work to satisfy three critical benchmark criteria...customer satisfaction; product knowledge and expertise; and willingness to learn and adapt.

More from Chemicals & Gases