Platinum Tools® Features Multiple New Products During 2019 BICSI Winter Conference & Expo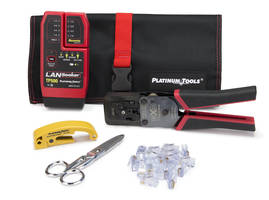 Platinum Tools Will Also Give Away Three EXO ezEX-RJ45® Termination & Test Kits and Numerous 8-in-1 Ratcheted Stubby Screwdrivers During the Event
Newbury Park, Calif., Jan. 18, 2019 - Platinum Tools® (www.platinumtools.com), the leader in solutions for the preparation, installation, hand termination and testing of wire and cable, is proud to announce it will feature numerous new products during the 2019 BICSI Winter Conference & Expo, held in Orlando, Fla. at the Gaylord Palms Resort & Convention Center from Jan. 20-24, booth #100.
Among the new and now shipping products that Platinum Tools will showcase are the Waterproof RJ45 Coupler System (p/ns 740C & 741C), EXO Termination Kits, Shielded and Unshielded Unloaded Patch Panels, RJ45 Cat6A/7 Connectors 28-26 AWG, and the EZ-12/11 Die for EXO Crimp Frame.
During the event, Platinum Tools will also give away three new EXO ezEX-RJ45® Termination & Test Kits (which includes EXO Crimp Frame with EXO-EX Die™, LANSeeker™ Cable Tester, Scissor-Run Electrician's Scissors, Cat 5/6 Cable Jacket Stripper, ezEX™44 Connectors (30 pcs), and Platinum Tools Hanging Pouch). Potential winners only need to come by the Platinum Tools booth during days 1-3 of the show and get scanned in order to gain entry to the daily giveaway. One winner will be awarded each day. The EXO ezEX-RJ45® Termination & Test Kit is a winner of Residential Systems Magazine's "Best of Show" CEDIA 2016 award and is also the 2017 BICSI Winter Conference Winner for Connectors and Connectorization,
In addition, Platinum Tools will also give away their 8-in-1 Ratcheted Stubby Screwdrivers (while supplies last) during the show. Platinum Tools' 8-in-1 Ratcheted Stubby Screwdriver is the perfect tool for those cramped spaces, featuring a 6-piece bit storage unit conveniently built directly into the handle. Simply unscrew the top cap and swap bits out as needed. It also features a full ratcheting mechanism and a non-slip rubberized grip for quick tightening and loosening of screws with minimal effort.
During the show, Platinum Tools will feature:
Platinum Tools' Waterproof RJ45 Coupler System is rated to IP67 standards in order to meet those harsh environmental conditions commonly found in outdoor and indoor installs, such as wireless towers, security systems, outdoor entertainment venues, industrial manufacturing, LED lighting, emergency communications, marinas, and more.
Including the EXO Crimp Frame® with the EXO-EX and the EZ-RJ45® interchangeable dies, the EXO Termination Kits supply everything needed to terminate Cat5e, Cat6, and Cat6A cables. Using the original EZ-RJ45 Cat5e and ezEX-RJ45®, ezEX®44, and  ezEX®48 connectors give installers the fastest solution for terminating Ethernet cabling.
The shielded and unshielded Unloaded Patch Panels make it easy to mix and match keystones, replace a damaged port, and add new runs. They also make category upgrades easy, maximize limited rack space, and are perfect for residential or small office applications.
"Our new shielded Cat6A/7 RJ45 modular connector is designed to terminate round solid or stranded, 28 – 26 AWG, Cat6A/7 network cable," said John Phillips, Platinum Tools, Inc. product manager. "The connector contains 3-Prong contacts that hold the wire in place giving a reliable connection, and meets and exceeds 10Gig performance standards."
Interchangeable and reversible when used with EXO Crimp Frame®, the red EZ-RJ12/11 Die is used to terminate EZ-RJ12/11 connectors. It includes a single cycle crimp and flush trim, and connectors lock into tool for correct positioning during crimp. This die can also crimp other standard "non-EZ" or pass through style connectors. The EZ-RJ12/11 Die now gives the EXO Crimping System ability to crimp telephone connectors, such as RJ12/11.
For additional pricing and more information on Platinum Tools and its complete product line, please visit www.platinumtools.com, call (800) 749-5783, or email info@platinumtools.com.
About Platinum Tools
Platinum Tools, founded in 1997, was created based upon two very simple objectives. First, develop the absolute best possible solutions for the preparation, installation, and hand termination of wire and cable. Second, implement an operational infrastructure that can deliver these products in an efficient, timely, and high quality manner.
All of our products must absolutely satisfy three critical benchmark criteria…utility of function; quality of function; and economic value. Our people are our company. They, too, must be focused on and work to satisfy three critical benchmark criteria…customer satisfaction; product knowledge and expertise; and willingness to learn and adapt.
Media Contact:
Charlie Leib
CRL Public Relations
T: 480-380-0673
More from Electrical Equipment & Systems