Platinum Tools® Features Expanded Structured Wiring Solutions at 2016 ISC West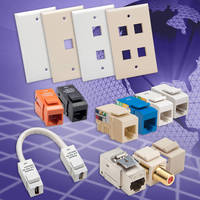 With New Keystone Jacks, Couplers, Multi-Port Wall Plates Complementing Such Popular Products as the EZ-SnapJack, Platinum Tools' Product Catalog has Exactly What the Installer Needs for Virtually Any and Every Application



NEWBURY PARK, Calif., – Platinum Tools (www.platinumtools.com), the leader in solutions for the preparation, installation, hand termination and testing of wire and cable, is proud to announce it will feature its recently expanded structured wiring solutions during ISC West 2016, held in Las Vegas, Nev. from April 6-8 at the Sands Expo and Convention Center, booth #5036. The line now includes new Keystone Jacks, Couplers, and Multi-Port Wall Plates for data, voice, and video installations and applications.



"Quite simply, we have complete connectivity solutions for your entire network," explained John Phillips, Platinum Tools, Inc. product manager. "Platinum Tools has been a leader in providing products and solutions for the structured wiring networking world of data, voice, and video for nearly two decades. Now, with Keystone Jacks, Couplers, and Multi-Port Wall Plates complementing our exiting popular products such as the EZ-SnapJack, our catalog has exactly what the installer needs for virtually any and every application."



Platinum Tools' Keystone Jacks and Couplers for Cat3, Cat5e, Cat6, and Cat6A applications are color coded to make EIA/TIA 568A/B wiring easy. They feature 50 micron gold contacts, meet/exceed EIA/TIA category standards, they are compatible with industry standard wall plates, and are RoHS compliant and UL listed.



"Our Wall Plates are compatible with most industry standard keystone jacks and EZ-SnapJacks and are engineered to prevent possible fracturing from over tightened screws," added Phillips. The 1-, 2-, and 4-port Wall Plates are also UL RoHS compliant, one-piece, single-gang, 4.5-inch x 2.75-inch, include color matching mounting screws, and are designed to fit standard single-gang outlet boxes.



"Our reusable, time saving EZ-SnapJack has been designed to fit industry standard wall plates and is perfect for new or retrofit commercial network and home automation installations," said Phillips. "Depending on specific needs and circumstances and with the convergence in our marketplace, our newly expanded structured wiring solutions alongside the EZ-SnapJack and other options allow the low voltage installer to quickly install a keystone jack correctly each time. This will save the installer time and money associated with re-visiting the job site to fix the common problem of poor connector terminations and poorly installed mounts and fixtures."



For additional pricing and more information on Platinum Tools and its complete product line, please visit www.platinumtools.com, call (800) 749-5783, or email info@platinumtools.com.



About Platinum Tools

Platinum Tools, founded in 1997, was created based upon two very simple objectives. First, develop the absolute best possible solutions for the preparation, installation, and hand termination of wire and cable. Second, implement an operational infrastructure that can deliver these products in an efficient, timely, and high quality manner.



All of our products must absolutely satisfy three critical benchmark criteria…utility of function; quality of function; and economic value. Our people are our company. They, too, must be focused on and work to satisfy three critical benchmark criteria…customer satisfaction; product knowledge and expertise; and willingness to learn and adapt.

More from Electronic Components & Devices