Temperature Sensors / Detectors / Transducers
Platinum Thin Film RTDs act as wire wound replacements.
Press Release Summary: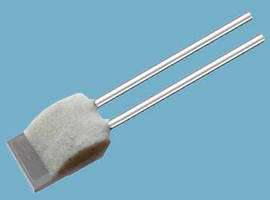 Intended to directly replace wire wound technology, PW and PG series are capable of achieving DIN 60751 class A accuracy in -200 to +600°C range. Thin film platinum temperature sensors of PW and PG series respectively feature temperature coefficients of 3,850 ppm/K and 3,911 ppm/K. In addition to lend to materials conservation, dimensions promote packaging versatility.
---
Original Press Release:

Now Available: Direct Wire Wound Replacement Through Thin Film Technology



Through design and material selection efforts, Innovative Sensor Technology has developed a platinum thin film RTD to directly replace wire wound technology at half the cost.

Class A Rating From -200°C to +600°C
IST's new PW and PG series thin film platinum temperature sensors are capable of achieving DIN 60751 class A accuracy in the temperature range of -200°C to +600°C. The PW series features a temperature coefficient of 3850 ppm/K, while the PG series offers a temperature coefficient of 3911 ppm/K. The sensors also feature outstanding hysteresis characteristics.

Wire Wound Performance at Half the Cost
Due to smaller dimensions, the PW and PG series sensors can be manufactured at lower material costs, allowing for the sensors to be offered at half the price of wire wound technology. The smaller thin film dimensions also lead to packaging versatility and much faster response times than those achieved by wire wound sensors.

Innovative Sensor Technology is a world-class manufacturer of thin-film RTD temperature sensors, capacitive humidity sensors, and mass flow sensors. Established in 1991, IST is an ISO 9001 certified company and is headquartered in Wattwil, Switzerland, with subsidiaries in the Czech Republic and USA.