Platinum-Cured Silicone Tubing from NewAge® Industries Offers Purity for Fluid Transfer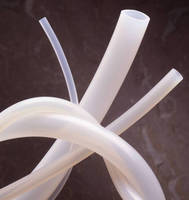 Well Suited for Medical, Pharmaceutical, & Food Applications

Southampton, Pa. - NewAge Industries manufactures silicone tubing that's platinum cured for the highest degree of purity. Called Silcon® Med-X, it's one of the company's medical grades of silicone tubing and reinforced hose. Silcon Med-X is particularly suited for applications in the medical, biomedical, pharmaceutical, laboratory, surgical, food, beverage, and health and beauty industries.

NewAge produces both peroxide and platinum cured silicone tubing. The platinum-cured version offers the fewest number of extractables, which are compounds that can be drawn out of tubing and adversely affect the fluid flowing within. It also contains no plasticizers that can leach out and cause flow contamination or tube hardening.

Using purer tubing in processing and transfer applications means the end product is purer as well. The elastomer used in Silcon Med-X meets USP (United States Pharmacopoeia) Class VI requirements, and the tubing is produced in a controlled environment. Silcon Med-X is soft, pliable, and will not support bacteria growth. It is supplied in individual, heat-sealed polybags.

Silcon Med-X is nonreactive to body tissues and fluids, although it is not recommended for implantation or in-body uses. The tubing may be reused after sterilization by autoclave or gamma radiation. Silcon Med-X is stocked in 17 sizes ranging from .030" through .625" (5/8") I.D. Other sizes, durometers, and colored Silcon Med-X are available through custom order. Barbed fittings, including those made from FDA-approved polypropylene, are stocked along with a variety of clamps.

For more information on NewAge Industries' Silcon Med-X silicone tubing, contact the Fluid Transfer Specialists® at NewAge Industries, Inc., 145 James Way, Southampton, PA 18966; phone 800-506-3924 or 215-526-2300; fax 800-837-1856 or 215-526-2190; e-mail: info@newageindustries.com: web page: http://www.newageindustries.com/silmedx.asp

About NewAge Industries and AdvantaPure®
In business since 1954, NewAge Industries manufactures and fabricates thermoplastic and thermoset tubing in both reinforced and unreinforced styles. The company offers an overall product quality rating of 99.7%, provides extensive custom extrusion and fabrication capabilities, and services customers worldwide. NewAge Industries maintains a large inventory and prides itself on same-day shipment of 99% of orders for its core product lines. In 2006, NewAge initiated an ESOP (Employee Stock Ownership Plan) for the benefit of both its employees and customers.

The AdvantaPure division of NewAge Industries is ISO 9001:2008 certified and specializes in high purity tubing, hose, single use systems, manifolds, and other molded components for the pharmaceutical, biomedical, food, beverage, and chemical industries. All products are manufactured, stored, and shipped using the cleanest methods possible to ensure unsurpassed product purity. RFID systems, including gamma-irradiatable styles, are offered as well.

Silcon®, NewAge®, NewAge Industries AdvantaPure®, and "Fluid Transfer Specialists®" are registered trademarks of NewAge® Industries, Inc.

More from Fluid & Gas Flow Equipment