Platform provides profiling for small-tunnel reflow ovens.
Press Release Summary: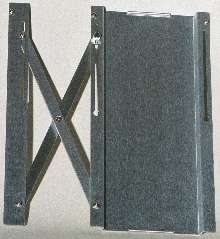 Side Rider(TM) carries M.O.L.E.® Profiler securely through beltless reflow ovens with tight tunnel tolerances. Available in 2 basic pan widths, 5.5 and 6.5 in., unit's slightly lowered nest holds profiler assembly just below level of oven chain, creating additional above-rail top clearance of .374 in. Platform can be used alone or with Outrigger expandable metal frame, with scissor action extension. With Outrigger extension, unit expands up to 8 in.
---
Original Press Release:

New Side Rider(TM) from ECD Provides Secure Profiling for Small Tunnel, Belt-less Reflow Ovens


Milwaukie, OR: ECD, worldwide leader in thermal profiling systems, is pleased to offer their new Side Rider(TM), an expandable safety platform designed to carry a M.O.L.E.® Profiler securely through beltless reflow ovens that have very tight tunnel tolerances.

Available in two basic pan widths, 5.5" and 6.5" for different M.O.L.E. models, the Side Rider has a slightly lowered "nest" that holds the profiler assembly (profiler in its protective thermal barrier) securely just below the level of the oven chain, creating additional above rail top clearance of .374" (9.5 mm). This eliminates two large problems for rail only ovens with tight tunnel space; the profiler will not get stuck in the tunnel and it is impossible for the profiler to fall from the Side Rider and be damaged or destroyed in the oven as often happens using other types of carrier methods.

The Side Rider platform can be used alone for narrow rail widths or with an "Outrigger"; an expandable rugged, metal frame with scissors action extension. This extender may be used on only one side of the Side Rider, or with one on each side of the Side Rider platform.

The Side Rider is easy to set up: adjust the rail width to the size of the board that will be used to set up the oven profile, instrument the board with the desired number of thermocouples attached to the profiler. Then place the M.O.L.E. into its thermal barrier and the whole assembly fits securely into the recessed nest in the Side Rider platform. The profiler rides the rails securely behind the wired board. Safely profile and characterize the oven in only minutes.

The Side Rider is ruggedly designed for long life. With the Outrigger extension, it expands up to 8" (205 mm). The Side Rider is readily available and ships from stock at $450. It is compatible for use with all M.O.L.E. profiling products.

For further product information, contact:
(Rex Breunsbach)
(mailto:rex.breunsbach@ecd.com)
800-323-4548 ext. xxx / Fax: 503-659-4422
ECD, Inc., 4287-A S.E. International Way, Milwaukie, OR 97222-8825, USA
www.ecd.com

More from Chemicals & Gases