Platform Hoist System offers 3,300 lb payload capacity.
Press Release Summary: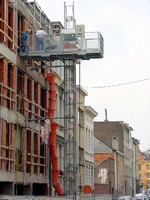 Featuring 13.5 x 5 ft material platform, Max Climber(TM) 3300 can be anchored to building or scaffolding to transport cement blocks, drywall, glass, carpeting, and aesthetic materials. Side- and front-loading extendable basket and roof enclosure keeps materials secure during transport, while interlocking ground enclosure keeps workers out of hoistway while unit is in operation. Moving at speeds up to 70 fpm, hoist can be remotely operated from ground.
---
Original Press Release:

Beta Max Introduces The Max Climber 3300 For The Rental Industry



Generates superior revenue for rental organizations while promising safety and reliability

Melbourne, FL- Beta Max Inc., a leading provider of affordable lifting solutions, introduces the Max Climber(TM) 3300 Transport Platform Hoist System, a series designed to transport materials conforming to maximum weight constrictions with a vertically driven elevator. Ideally suited for the lifting needs of the rigorous construction environments found with masonry, restoration, glazing and drywall installations, the Max Climber 3300 is a comprehensive transport platform and construction hoist that can be implemented at every stage of the job, a key benefit for rental outfits looking to keep their inventory in the field for extended time periods.

With a payload capacity of 3300 pounds, the Max Climber 3300 is a versatile lifting solution for customers involved in each separate phase of the construction process, as the hoist can be implemented when transporting a wide array of materials including cement blocks, drywall, glass, carpeting, and aesthetic materials. A 13.5 x 5 foot material platform with side- and front-loading extendable basket and roof enclosure keeps materials secure during transport, and an interlocking ground enclosure keeps workers out of the hoistway while the unit is in operation. The system can be anchored to a building or scaffolding using tube and clamp tie-ins at 20 foot intervals.

Providing a smooth and positive climb with operating speeds up to 70 fpm, the Max Climber 3300 can be remotely operated from the ground and does not require a dedicated operator, keeping costs at a minimum. Advanced safety features, such as upper and lower limit switches and an emergency overspeed brake that engages if the hoist descends too quickly, make the hoist safe for all contracted workers. All Beta Max hoists offer user-friendly field drop test operation and are factory-tested prior to shipping. Easy to maintain and service, the Max Climber 3300 has built in features providing access to the electrical panel.

The heavy gauge aluminum loading ramp and rugged basket floor along with the galvanized mast and base system components ensure the long life of the Max Climber 3300. The hoist is available with an onboard jib and hoist to simplify mast installation, and heavy-duty but lightweight mast sections can be dismantled for easy shipping and transporting to and from the job site.

All Beta Max Hoist Systems meet or exceed ANSI & OSHA specifications.

About Beta Max, Inc.
Beta Max Inc., of Melbourne, Florida, has been providing the construction and restoration industries with alternate methods for lifting building materials for over 20 years. For more information on the Max Climber 3300, contact Beta Max Inc., P.O. Box 2750, Melbourne, FL 32902-9930. Call: 800-233-5112 or fax: 321-768-9517. Visit Beta Max Inc. on the World Wide Web at www.betamaxhoist.com

More from Cleaning Products & Equipment