Plastolon® PTFE Tapes Offer Unsurpassed Color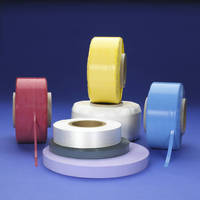 Plastolon® PTFE tapes and films manufactured by Plastomer Technologies have been used throughout the wire and cable industry for nearly 40 years. Made in the USA, these tapes offer properties such as high tensile strength, elongation and chemical resistance.

Plastomer's proprietary blending techniques allow for the creation of the most homogenous PTFE blends in the industry. If the application calls for a custom PTFE unsintered tape or film, we can use our extensive knowledge of a wide range of PTFE compounds to customize a solution that meets the client's exact physical, thermal and practical requirements.

Plastomer Technologies, an EnPro Industries company, is ISO 9001:2000 certified and can produce to NSF, ASTM, CSA, UL Mark of Safety, or military specifications. Customer commitment and PTFE expertise help make Plastomer a leader in the manufacturer of PTFE tapes, films, shapes, gaskets and more. For a quote call 713.983.4201 or email info@plastomertech.com.


More from Fluid & Gas Flow Equipment