Plastics Welding Machine uses RF energy to fuse materials.
Press Release Summary: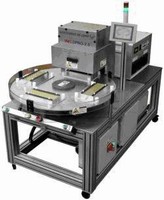 Weldpro 2.0 solid-state RF plastics welding machine suits applications such as sealing clamshell/blister packages, tubing, perimeter tear-seals for medical bags, seam seals, and joining rolls of material. Featuring modular construction, it includes auto-tuning and arc suppression, and is controlled via high-speed processor. Infinitely adjustable power output from 0-2.2 kW can be set in 4 independently adjusted states for power and duration.
---
Original Press Release:

Northwest RF Corp. Introduces the Next Generation of Solid-State RF Plastics Welding Machinery for Packaging, Medical, and Industrial Applications



Northwest RF Corp. Introduces the Next Generation of Solid-State RF Plastics Welding Machinery for Packaging, Medical, and Industrial Applications

Bensenville, Illinois, May 2007: Northwest RF Corp has just released a new generation compact solid-state radio frequency plastics welding machine, entitled Weldpro 2.0. Typical applications include sealing clamshell/blister packages, tubing and perimeter tear-seals for medical bags, seam seals, joining rolls of material, and many other industrial applications. This user-friendly RF Welder/Sealer is designed for quick setup and features modular construction and options for increased productivity. The solid-state design means there is no tube to replace, drastically reducing maintenance costs. The Weldpro 2.0 includes an auto-tuning feature and arc suppression as standard features.

Northwest RF Corp's RF Welder/Sealer has an infinitely adjustable power output (from 0 to 2.2 kW) that can be set in four independently adjusted stages for both power and duration. To insure that it will perform at peak efficiency and precision throughout its life, it is controlled via an embedded high-speed processor with feedback options.

RF (radio frequency) welding, also known as dielectric sealing or HF (high frequency) welding, is the process of fusing materials together by applying radio frequency energy to the area to be joined. The resulting weld can be just as strong as the original materials. The Weldpro 2.0 machine is designed for welding thermoplastics such as PVC, EVA, PU, PETG, polyolefins, etc.

By standardizing their product line and integrating many features that are normally considered options by their competitors, Northwest RF Corp., a leading manufacturer of specialized RF plastic welding machines (also known as RF Sealing equipment) has greatly reduced the cost of such machines. In addition, Northwest RF Corp. rigorously maintains very low overhead costs and utilizes high quality components to offer the best value in the market.

For sales or more info contact:

342 S. Evergreen
Bensenville, IL 60106
P# +630-350-4770
F# +630-350-4771
info@northwestrf.com
northwestrf.com


More from Mechanical Power Transmission