Plastics Bonding Adhesive features built-in cure indicator.
Press Release Summary: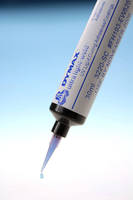 Formulated with See-Cure color-change technology, Ultra Light-Weld 3220-SC adhesive is bright blue in its uncured state, and turns clear after proper curing. This serves as visible indicator to confirm if adhesive has received sufficient energy to reach full cure. RoHS Directives 2002/95/EC and 2003/11EC compliant product is formulated for rapid bonding and laminating of plastics such as PC, PVC, PET, ABS, and PU.
---
Original Press Release:

DYMAX Plastics Bonding Adhesive Has Built-in Cure Indicator



November 26, 2008

DYMAX Ultra Light-Weld® 3220-SC is formulated for rapid bonding and laminating of plastics such as PC, PVC, PET, ABS, and PU used in the assembly of plastic appliances, subcomponents, housings, and enclosures. This adhesive, formulated with DYMAX's exclusive See-Cure color-change technology, starts out bright blue in its uncured state, making it easy to see on the surface of substrates, in deep wells, or when sandwiched between two layers of materials. The blue color is extremely visible, so simple vision systems can be incorporated into assembly processes prior to curing to provide a visual indicator of adhesive coverage and profile. It can be visually seen by operators during dispensing to identify voids and air bubbles before cure, thereby reducing scrap rates and increasing yield.

But, the blue color is only temporary. Ultra Light-Weld 3220-SC turns clear after the adhesive is properly cured. This serves as a visible indicator to confirm the adhesive has received a sufficient dose of energy to reach full cure. As the adhesive cures, the blue color within the adhesive fades and ultimately turns clear.

This adhesive has low moisture absorption and low viscosity for easy dispensing. When cured with DYMAX light curing spot lamps, focused beam lamps, or flood lamps, it delivers optimum speed and performance for plastics assembly. This product is in full compliance with the RoHS Directives 2002/95/EC and 2003/11EC.

DYMAX Corporation is a leading technology-based company specializing in the formulation, manufacture, and service of advanced assembly adhesives, coatings, epoxies, masking resins, and light curing systems.

For more information, contact
DYMAX Corp.,
318 Industrial Lane,
Torrington, CT 06790;
Phone: 860-482-1010;
Fax: 860-496-0608;
Toll Free: 1-877-DYMAX-UV (1-877-396-2988);
e-mail: info@dymax.com
or visit our website at www.dymax.com.

Contact: Applications Engineering

More from Material Processing