Plastic Welding Kit repairs broken pipe without glue.
Press Release Summary: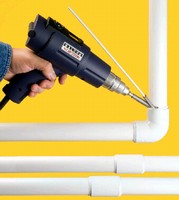 Developed for repairing SCH 40 and 80 piping systems without glue, Plastic Piping Welding Kit includes Weldy® Plus programmable hot air tool with adjustable heat and airflow, pipe welding nozzle, and 2 lb of PVC, PE, or PP welding rod. Hot air tool has 120 V, 1,500 W digital display showing set and actual temperature. With variable temperature adjustable from 180-1,200°F and airflow from 7-17.5 cfm, kit is suited for irrigation system repairs and general maintenance.
---
Original Press Release:
Plastic Welding Kit Repairs Broken Pipe Without Glue
A new plastic welding kit that includes everything necessary for repairing SCH 40 and 80 PVC piping systems quickly and without glue is being introduced by Malcom Company, Inc. of Tiverton, Rhode Island. The Malcom Plastic Piping Welding Kit features a Weldy® Plus programmable hot air tool that features adjustable heat and airflow, a pipe welding nozzle, and a 2 lbs. supply of PVC, PE, or PP welding rod. Developed for repairing SCH 40 and 80 piping systems without glue, this kit is also available with nozzles for repairing liners, tanks, and other products. Featuring pre-programmed settings for various applications, the Weldy® Plus programmable hot air tool in Malcom's Plastic Piping Welding Kit has a 120V 1500W digital display showing set and actual temperature. Variable temper-ature adjusts from 180°-1200°F and the air flow adjusts from 7-17.5 CFM. Applications include irrigation system repairs and general maintenance. The Malcom Plastic Piping Welding Kit is priced from $ 399.00; complete with a 2 lbs. supply of PVC, PE, or PP welding rod. Literature is available upon request. For more information contact: Malcom Company, Inc. Jon Bixby, Marketing Director 590 Fish Rd. Tiverton, RI 02878 (800) 289-7505 FAX (401) 624-3081 e-mail: jonathan@malcom.com www.malcomcompany.com
More from Electronic Components & Devices