Plastic Volumetric Flasks protect contents from light.
Press Release Summary: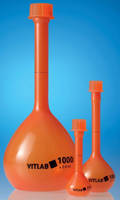 VITLAB® light-shielding volumetric flasks are made of pigmented polymethyl pentene plastic that absorbs light, particularly in UV range below 280 nm and upper Vis range above 580 nm, while providing sufficient translucency to verify contents/volume. Providing sunlight protection factor of nearly 20, break-resistant flasks offer alternative to glass and come in 10-1,000 mL sizes. All accommodate screw-on caps that help protect contents, and all volumes are Class A per DIN EN ISO 1042.
---
Original Press Release:

Volumetric Flasks with Light Protection Superior to Amber Glass



BrandTech Scientific introduces the new VITLAB® light-shielding volumetric flasks.

They are made of a specially pigmented polymethyl pentene (PMP) plastic that provides excellent absorption of light. In particular, absorption in the UV range - below 280nm and the upper visible range above 580nm-yet provides sufficient translucency to verify contents and volume, in most applications superior to amber glass. It provides a sunlight protection factor of nearly 20. Flasks are light weight and break resistant, and provide a cost-effective alternative to glass. Screw-on caps help protect flask contents better than traditional stoppers.

Flasks are available in sizes from 10mL to 1000mL. All volumes are Class A per DIN EN ISO 1042. Purchase through preferred laboratory supply dealers.

BrandTech Scientific, Inc. of Essex, CT imports a wide variety of laboratory products and distributes through leading laboratory supply dealers. Product offering includes pipettes, bottletop dispensers, burettes, pipette controllers, repeating pipettes, vacuum pumps, cuvettes, PCR plastics, plastic labware and lab support jacks.

VITLAB® is a registered trademark of VITLAB GmbH

More from Laboratory and Research Supplies and Equipment