Plastic Shipping Trays suit automated assembly applications.
Press Release Summary: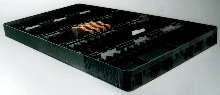 Injection molded trays utilize design that accounts for dimensional accuracy, positioning accuracy, durability, secure part containment, and part protection from damage and contamination. Dimensional accuracy is ±.04 anywhere in tray. Molded from Noryl® EM6100, trays measure 43.5 x 23.187 x 3.08 in. and hold up to 75 individual main bearing caps positioned in pockets with spacing required to permit end effectors on robots to pick and place them.
---
Original Press Release:
Special Injection Molded Shipping Tray for Engine Main Bearing Caps Designed for Application with High Speed Automation

Injection molded plastic shipping trays that are durable and dimensionally accurate are replacing fabricated steel designs at significant cost savings.

Efficiencies of high production manufacturing and assembly are enhanced when components are consistently and accurately presented so automation can be applied. This is predominantly true for the automotive industry where automated assembly is necessary, particularly for engines and transmissions where large numbers of components are required. It is here where new concepts in flexible and agile manufacturing are being applied, and efficient material handling for optimum process work flow is a major factor.

Molded Materials Inc., a leading designer and manufacturer of injection molded dunnage and trays, is working closely with many automotive OEMs to develop special trays for engine components that are designed for use with automated assembly. These tray designs take into consideration the needs for such things as dimensional accuracy, positioning accuracy, durability, secure part containment, part protection from damage and contamination, and ultimately cost. In some cases, the desire to free up floor space and compress or consolidate manufacturing operations are desired factors as well.

Recently, Molded Materials helped one truck engine manufacturer develop a custom injection molded plastic tray for finished machined main bearing caps, Fig. 1. The tray is designed to be used with automation for loading by the supplier, and unloading by the OEM.

Mark Marra, Molded Materials' application engineer for the tray, says, "This is truly a designed-for-assembly application. We worked with the customer right from the beginning, which enabled us to optimize the design, the materials and reduce tooling costs. We were able to design the necessary detail into the mold that provides exactly the kind of part positioning, security and density required for the main bearing caps. Dimensional accuracy is ±.04 anywhere in the tray. The only other alternative, for these required tolerances, would be to have the tray fabricated from steel, which would double the cost and the actual tray weight."

Marra explains, "The trays are molded from Noryl® EM6100, a highly durable and dimensionally stable material that allows close tolerances to be produced. The tray is 43.5-inches long, 23.187-inches wide and 3.08-inches high so it can be used in conjunction with a standard 45 x 48-inch pallet. It is designed to hold 75 individual main bearing caps that are positioned in pockets with the spacing required to permit end effectors on robots to pick and place them. Tabs located on the bottom of the trays interlock with slots on the top so the trays nest together securely holding the parts in place. A special lid is used on the top of the stack to seal the top layer. Also, there is a series of drain holes on the bottom of the tray to insure there is no remnant cutting fluid build up in the tray. The trays and can be stacked nine trays high at a total height of 33.5 inches. Loaded with parts, each tray weighs approximately 165-lbs."

Marra concludes, "This main bearing cap tray is an excellent example of how to maximize the real benefits of an injection molded tray design for use with automation. It combines the best features of accuracy and durability."

Send all Inquiries to:

Tom Elkington

VP Operations

Molded Materials, Inc.

44650 Helm Ct.

Plymouth, MI 48170

Tel: 734-459-5955 Fax: 734-459-6325

Email: telkington@moldedmaterials.com
More from Packaging Products & Equipment