Plastic Quick-Access Fasteners suit low-load applications.
Press Release Summary: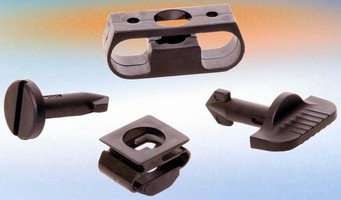 With rated life of thousands of cycles, DZUS® Dart quarter-turn fasteners feature all-plastic construction for non-corrosive, non-conductive performance. Studs and receptacles, designed from complementary materials, reduce squeaks, binding, and wear. Push-on retainers captivate Dart studs, and self-ejecting spring options lift disengaged fasteners above panel to facilitate identification of hardware in unfastened position. There are 4 standard head styles and 5 receptacle styles.
---
Original Press Release:
Southco Introduces New Line of Thermoplastic Quick-Access Fasteners
Thermoplastic Quick-Access Fasteners Provide Versatile Economical Performance for Low-Load Applications Concordville, PA, March 12, 2007-The newly redesigned line of versatile DZUS® Dart quarter-turn fasteners from Southco provides extremely cost-effective solutions for quick-access fastening in high-volume light-duty applications. Thermoplastic materials allow for a high strength-to-weight ratio and good aesthetic features for applications such as automotive panels, electronics and other consumer products. The all-plastic construction delivers non-corrosive, non-conductive performance for indoor or outdoor applications and provides a rated life of thousands of cycles. Studs and receptacles designed from complementary materials reduce squeaks, binding and wear. The Dart quarter-turn fastener line includes ergonomic headstyles with attractive styling to match end-use applications. Its design allows for custom headstyles with little or no tooling charges. While the standard color is black, the option to order Dart quarter-turn fasteners in custom colors makes it easier to match the aesthetic environment of the application. Installation is easy, with no special tools required to install the receptacles. Simple push-on retainers captivate the Dart studs. Self-ejecting spring options lift disengaged fasteners above the panel, making it easier to identify hardware in the unfastened position and to remove unfastened panels without damaging fastener hardware. Four standard head styles-straight slot, slotted knob, an ergonomic wing style, and a hex-recess style -offer a range of convenient-access and restricted-access options to suit specific needs. Five different receptacle styles-front load, rear load, snap-in, clip-on and rivet-plate-each feature built-in stops to resist over rotation, detent features to indicate complete engagement and built-in spring compliance that provides a degree of vibration resistance. In order to satisfy a broad scope of fastening opportunities, Dart quarter-turn fastener stud lengths range from 11.4 mm to 25.4 mm (.45" to 1.0") and can accommodate total material thicknesses ranging from 2.5 mm to 19.8 mm (.100" to .779"), depending on the receptacle used in the application. Various receptacle styles accommodate support panel thicknesses ranging from 0.7 mm to 5.5 mm (.027" to .216"). And with a fit tolerance of 1.2 mm (.047"), more forgiving than many other quarter-turn fasteners, Dart quarter-turn fasteners provide greater flexibility for meeting diverse application requirements. For more information, visit Southco's website at southco.com; e-mail their 24/7 customer service department at info@southco.com; call 610-459-4000; or fax to 610-459-4012. Southco is a leading global provider of engineered access solutions, including latches, locks, captive fasteners, hinges, handles, and other accessories for applications in the marine, networking, telecommunications, computer, automotive, aerospace, mass transit, off-highway/construction, RV/caravan, industrial machinery and HVAC industries. Southco is strongly focused on customized engineering solutions and global support for its key customers. The company aspires to be a virtual engineering center for its customers' engineered-access solutions and is committed to providing outstanding quality and overall satisfaction. Southco's promise to its customers is to connect, create and innovate to provide the best solution for every access engineering problem. SOUTHCO CONTACT: Dale Clouser 610-361-6551 dclouser@southco.com
More from Electrical Equipment & Systems