Plastic Push Button Box offers alternative to steel.
Press Release Summary: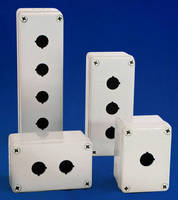 Offering corrosion resistance in washdown, humid, and outdoor environments, PBB Push Button Box carries NEMA 4X/IP67 rating and meets requirements of UL 746C with respect to UV light and water exposure. Construction combines polycarbonate plastic and 10% fiberglass for combined shatter resistance and molding consistency. Latter results in tight tolerances and seal reliability. Gray PBB Push Button Box suits 22 and 30 mm push buttons and comes in sizes from 0.89 x 1 in. to 1.22 x 4 in.
---
Original Press Release:

Bud Industries Expands Push Button Box Line with Plastic Option



Plastic Box Offers NEMA Rating and Corrosion Resistance for Less Cost and Weight than Steel



CLEVELAND, Ohio — Bud Industries, a leading manufacturer of electronic enclosures, has introduced its PBB Push Button Box, giving customers a low price alternative within its existing line of NEMA plastic enclosures for automation.



Plastic push button boxes significantly reduce costs compared to steel versions, and they provide the advantage of higher corrosion resistance in washdown, humid and outdoor environments. Another advantage is the lighter weight – 20 times lighter than comparable steel boxes – which makes them easier to handle and install.



Typical applications for the new enclosure include control boxes, terminal blocks, motor starters, lighting, corrosive environments, chemical plants and general factory environments. It is ideal for outdoor use, having a NEMA 4X / IP67 rating that keeps out dust and water in extreme conditions and meeting the requirements of UL 746C with respect to ultraviolet light and water exposure.



The new push button box combines polycarbonate plastic and 10% fiberglass for a dual benefit; the polycarbonate offers improved shatter resistance, and the fiberglass allows for more consistent molding that results in tighter tolerances and therefore a more reliable seal.



The gray PBB Push Button Box is suited for 22 and 30mm push buttons and is available in sizes ranging from 0.89 x 1-inch to 1.22 x 4-inches. It is UL508/NEMA type 4X and type 6 listed #E343339, UL industrial controls and CE Low Voltage directive 2006/95/EC listed, non-chlorinated and non-brominated, flame retardant with a UL-94 V0 rating, and RoHs compliant.



Price and Availability

Bud's plastic PBB Push Button Box is available from stock now. It is priced starting around $10, with quantity discounts available.

For more information on Bud's new PBB Push Button Box, visit www.budind.com/98.



To request a free Bud electronics enclosures catalog, visit http://www.budind.com/request_catalog.php or contact the Sales Department at:



4605 E. 335th Street

Willoughby, Ohio, 44094

Phone: 440-946-3200

Fax: 440-951-4015

Web: www.budind.com

Email: saleswest@budind.com



About Bud Industries, Inc.

Founded in 1928, Bud Industries, Inc. is the nation's leading manufacturer of enclosures and related products for the electronics and data industries. The Bud line includes products ranging from small hand-held boxes to large cabinet racks, products made from plastic as well as metal, and standard electronic products as well as those that meet NEMA and seismic requirements. Bud's standard product line of more than 2,500 products is heavily stocked by distribution channels as well as by the company itself, allowing same-day shipment of more than 90 percent of the enclosures sold. Bud can make simple modifications to most enclosures to your specs in five days. Custom products are also available, as is complete design support.

Related