Plastic Enclosures house switches, controls, and alarms.
Press Release Summary: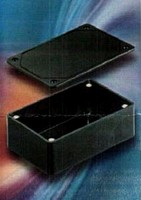 Measuring 6.10 x 4.60 x 1.37 in., Utilibox Style A Enclosures feature internal dimensions of 5.84 x 4.34 x 1.17 in. They come in flanged and unflanged styles, weighing 6.3 oz and 5.9 oz, respectively. Bodies and covers are UL94-5VA rated ABS with textured surfaces for mar resistance. All enclosures have PCB mounting bosses and are available with or without molded-in wall mounting brackets.
---
Original Press Release:

Bud Adds New Size to Its Utilibox Line



CLEVELAND - April 17,2006 - Bud Industries, Inc., the leading manufacturer of electronic enclosures, announces the availability of a new size of Utilibox Style A plastic enclosure. The new enclosure measures 6.10-in. long x 4.60-in. wide x 1.37-in. high. Internal dimensions are 5.84-in. x 4.34-in. x 1.17-in. It is ideal for housing switches, controls and alarm systems.

The enclosure comes in flanged and unflanged styles, weighing 6.3 oz and 5.9 oz, respectively. Textured surfaces provide high mar resistance. Bodies and covers are made of durable UL94-5VA rated ABS material in black. Other colors are available upon request. The enclosure comes with black cover mounting screws.

Other Utilibox Style product lines are available with either a flush textured cover or with a smooth recessed area suitable for labels or keypads. Recessed covers are made from UL94V-0 rated ABS. Some models also come with clear covers made from UL94V-2 rated ABS.

All Utilibox Style A enclosures have internal PCB mounting bosses, and are available with or without molded-in wall mounting brackets. Boxes are easily modified with common machine shop tools to meet specific application requirements.

Same Day Shipment. Bud Utilibox Style A enclosures are in stock and available for same-day shipment. Contact the factory for custom modification specifications and pricing. The manufacturer's suggested retail pricing is as low as $4.50. Product is priced, sold and packaged in quantities of one. To request a free catalog or additional information on Bud Industries products, visit www.budind.com/8 or contact the Sales Department at: 4605 E. 355th Street Willoughby, OH 44094 Phone: 440-946-3200 Fax: 440-951-4015 Web: www.budind.com Email: saleseast @budind.com

About Bud Industries, Inc. Bud Industries, Inc., founded in 1928, is the nation's leading manufacturer of enclosures and related products for the electronics and data industries. The Bud line includes products ranging from small hand held boxes to large cabinet racks, products made from plastic as well as metal, and standard electronic products as well as those that meet NEMA and seismic requirements. Bud's standard line of more than 2500 products is heavily stocked by distribution as well as by the company, allowing same day shipment on more than 90 percent of the enclosures sold. Modified standard and custom products are also available, as is complete design support.

More from Test & Measurement