Plastic Connectors accommodate 12 to 19 contacts.
Press Release Summary: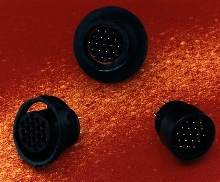 Micro Circular Plastic Connectors, based on 13.5 shell size, are available in wire-to-wire, wire-to-board or wire-to-panel versions. Spring-probe contacts provide up to 5,000 mating cycles, while pin and socket arrangement provides up to 500 mating cycles. Squeeze-to-release feature allows easy disconnection while maintaining positive latch. Nylon housing provides chemical resistance and environmental sealing to IP65. Contacts are rated up to 3 A at 250 Vac max.
---
Original Press Release:

More Contacts Means More Functionality For Tyco Electronics' Micro CPC Line


HARRISBURG, Pa., May I - Tyco Electronics today introduced a micro circular plastic connector (CPC) capable of accommodating between twelve and nineteen contacts. This new offering, based on a 13.5 shell size (13.5/16ths of an inch diameter), expands upon the previously released micro CPC which accommodated up to seven contacts in a 9.5 shell size. With the additional contact positions, designers can optimize the I/O efficiency of the system they are designing. The low-cost design provides excellent performance too. This new, higher pin-count design is suitable for applications in medical equipment, instrumentation and industrial equipment.

Micro CPC connectors are available in wire-to-wire, wire-to-board or wire to panel versions. Two contact systems are available. A spring-probe contact arrangement is available for high reliability applications such as medical equipment, high-cycle instrumentation and test & measurement equipment. Spring probe contacts are screw machined and provide a redundant current path. They are rated for up to 5,000 mating cycles.

For lower mating cycles, a precision screw machined pin and socket contact system is available. With the pin and socket arrangement, up to 500 mating cycles are possible. The pin and socket contact system provides the reliability and cost effectiveness necessary for many disposable medical device applications. Both contact styles have gold-plated finishes.

Micro CPC connectors have a squeeze-to-release feature which provides easy disconnection while maintaining a positive latch. The single-piece, nylon housing provides good resistance to
chemical agents and also provides environmental sealing up to IP65. Contacts are rated for up to three amps at 250 VAC maximum.

Pricing for the size 13.5 micro CPC connector with 19 spring probe contacts is $18.00 per mated pair. A comparable connector with the pin and socket contacts is priced at $11.00.

For more information on micro CPC connectors, contact Tyco Electronics' technical support center at 1-800-522-6752 or send e-mail to newproducts@tycoelectronics.com. More information
on the web at www.tycoelectronics.com

ABOUT TYCO ELECTRONICS
Tyco Electronics is one of the major business units of Tyco International (NYSE: TYC, LSE:TYI, BSE: TYC). Headquartered in Harrisburg, Pennsylvania, USA, Tyco Electronics is the world's largest passive electronic components manufacturer, and a world leader in cutting-edge wireless technologies, fiber optic active components, and complete power systems. The company has facilities located in 51 countries serving customers in the aerospace, automotive, computer, communications, consumer electronics, industrial and power industries. Tyco Electronics
provides advanced technology products from over thirty well-known and respected product brands, including Agastat, Alcoswitch, AMP, AMP Netconnect, Buchanan, CoEv, Critchley,
Elcon, Elo TouchSystems, HTS, M/A-COM, Madison Cable, OEG, Potter & Brumfield, Raychem, Schrack, Simel and TDI Batteries.

TYCO is a trademark

More from Packaging Products & Equipment