Plastic Check Valve fits into 1/8 in. tubing.
Press Release Summary: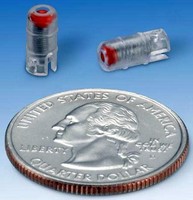 With ball and spring design, 101 Micro Barbed Check Valve delivers choice of opening pressures from 2-20 psi. No pressure is required to close, due to the unique spring-loaded design, and unit can also be used as pressure relief valve. Areas of use include medical applications that incorporate tubing, including blood pressure cuffs, kidney dialysis, and post-surgery instrumentation, or any application where space is critical.
---
Original Press Release:
Plastic Micro Check Valve Fits Into 1/8
Smallest Plastic Check Valve on the Market In response to market demand, Smart Products, Inc. recently introduced its 101 Micro Barbed Check Valve. The small valve, which fits 1/8" ID (inner diameter) tubing, is ideal for medical applications that incorporate tubing, including blood pressure cuffs, kidney dialysis, and post-surgery instrumentation - or any application where space is at a premium. With its patented ball and spring design, the 101 Barbed Check Value delivers a choice of precise opening pressures that range from 2 PSI to 20 PSI. Due to the unique spring-loaded design, the 101 Barbed Check Valve does not require pressure to close and, like all Smart Products check valves, can also be used as a pressure relief valve. The valve easily inserts into tubing, which eliminates potential leak points. Find out more about the 101 valve at www.smartproducts.com/check_valves_series_100_cartridge.php Check valves are used in applications to restrict the ability of a fluid to flow in one direction (the check direction) while allowing fluid to flow freely in the opposite direction (flow direction). About Smart Products, Inc.: Founded in 1984, Smart Products, Inc., located in Morgan Hill, California, manufactures a unique line of check valves and pressure relief valves. Designed to allow a virtually limitless number of possible combinations to fit specific needs, the valves are used in a wide range of applications, including medical diagnostic and treatment, gas analysis, filtration, beverage dispensing, printing, and many others. Over 3 million check valve combinations are possible by selecting from standard components. The company also offers custom design capabilities, special testing, and custom assemblies. Contact Us: Website: www.smartproducts.com Technical Sales: 800-338-0404 or 408-776-3035
More from Mechanical Power Transmission