Intermediate Bulk Containers (IBC)
Plastic Bulk Container features oversized lid.
Press Release Summary: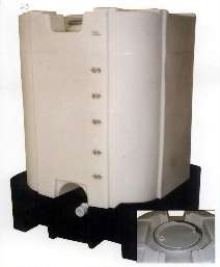 Reusable OTP Intermediate Bulk Container features 23 in. wide lid and opening that allow spray balls, nozzles, and other impingement cleaning devices to reach entire interior surface. Use of optional removable liner eliminates cleaning completely. Offered in 275 and 330 gal capacities, chemical- and impact-resistant OTP accommodates 4-way lift access, stacks 2 high when full and 3 high when empty. It is suited for storage and transport of paints, stains, inks, and coatings.
---
Original Press Release:

Bulk Container Features Oversized Lid to Permit Easy Access for Cleaning and Paints, Coatings


23-Inch Opening Allows Spray Nozzles To Clean Entire Interior

Bulk Container Accepts Liner To Eliminate Cleaning Altogether

Saddle Brook, NJ: The reusable OTP intermediate bulk container from material handling product manufacturer Meese Orbitron Dunne Co. (MOD), Saddle Brook. New Jersey (www.modroto.com/ibc), features an oversized 23-inch wide lid and opening that permit easy access to the container interior for cleaning. Ideal for the storage and transport of road paints, automotive paints, residential paints and stains, inks, coatings, adhesives and other water-based, non-regulated liquids, the wide lid OTP allows spray balls, nozzles and other impingement cleaning devices to reach the entire surface of the smooth, all-plastic container.

To eliminate cleaning without sacrificing the cost savings and environmental benefits of the reusable IBC, the OTP may be fitted with a removable plastic liner*. The liner is quickly replaced when the container is to be filled with a different color or material.

The OTP is rotationally molded in a single piece of rugged LLDPE to provide an all-plastic design that prevents the potential for metallic impurities to contaminate the paints, coatings or other contents. The chemical and impact resistant OTP accommodates 4-way lift access, stacks two high when full and three high empty. The versatile container is offered in 275- and 330-gallon capacities on standard footprints with a two-inch, quick-disconnect banjo ball valve.

For more information, contact Bob Dunne, 4920 State Road, Ashtabula, OH, 44004; 1-800-829-4535; FAX 440.992.4667; bob@modroto.com or see http://www.modroto.com/ibc.

* Liner not supplied by Meese.


More from Mechanical Components and Assemblies