Plastic Bearing tolerates extreme temperatures and loads.
Press Release Summary: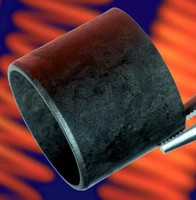 Operating in temperatures to 500°F, oil-free iglide Z510 exhibits dimensional stability under permanent loads of more than 43,000 psi in continuous motion or loads to 14,500 psi in rotational applications. Self-lubricating, corrosion-free product, suited for outdoor and heavy-equipment applications, is available in various metric and inch sizes. Construction is resistant to chemicals and UV rays.
---
Original Press Release:


igus Introduces iglide Z510 Plastic Bearing for Extreme Temperatures and Loads




New bearing material expands the breadth of options available for customers

EAST PROVIDENCE, R.I. - November 21, 2005 - Igus® Inc., the industry-leading developer of iglide® plastic bearings, has introduced a new material into its extensive line of award-winning iglide plastic bearings. The iglide Z510 is the first plastic bearing to withstand extreme temperatures of up to 500 degrees Fahrenheit, while delivering high resistance to pressure and retaining dimensional stability. It is also the first bearing to offer a maximum load of 43,000 pounds per square inch (PSI) versus its closest iglide cousin, iglide Z, which has a maximum PSI of 21,500, or half that of iglide Z510.

During development, iglide Z510 was subjected to a rigorous battery of tests, which revealed that with its high pressure resistance and elasticity, iglide Z510 can endure heavy loads-even while oscillating and with additional edge loads. Oscillating tests showed iglide Z510 to be the first bearing to withstand permanent loads of more than 43,000 PSI while in continuous motion and loads of 14,500 PSI in rotational applications.

This high-load capability makes iglide Z510 a viable choice for outdoor and heavy-equipment applications such as truck lifts, conveyor systems, construction vehicles and tractors.

"With the introduction of iglide Z510 into the market, igus has taken polymer bearing technology to a new level," said Tom Miller, bearings business unit manager for igus. "We have expanded the depth of our product offering beyond what any other plastic plain bearing developer can offer. As we continue to achieve new and greater feats with our plastic materials, we prove to the design community that plastic is a viable, often preferable choice for bearing construction over metal, bronze or ball bearings. Plastic can withstand the rigors of most any application, and usually at a lower cost."

As with all iglide plastic bearings, iglide Z510 is oil-free and self-lubricating, so it requires no maintenance. Iglide bearings are corrosion-free and resistant to chemicals and UV rays.

Igus has performed more than 5,000 tests on more than 100 new materials in its constant search for newer, better, stronger polymer blends. This information is analyzed and compiled in a comprehensive database, the igus Expert System, which is an application predictability calculator that can determine wear rates and life expectancy of iglide bearings in any application. Use this free tool online at igus.com/predict.

Iglide Z510 is available in a variety of both metric and inch sizes. Please contact an igus sales representative for details.

About igus
Igus Inc., founded in 1985 and based in East Providence, R.I., develops and manufactures industry-leading plastic cable carriers, continuous-flex cables, plastic bearings and linear guide systems. With more than 28,000 products available from stock, the company meets the motion control and machinery component needs of customers worldwide. Product lines include Energy Chain Systems ® to protect and house moving cables, Chainflex ® continuous-flex cables, iglide self-lubricating, oil-free, plastic bearings, DryLin ® linear guide systems and igubal ® spherical bearings. For more information, contact igus at (888) 803-1895 or visit www.igus.com.

igus, iglide, Energy Chain System, Chainflex, iglide, DryLin and igubal are registered trademarks of igus Inc.


More from Communication Systems & Equipment