Plasma Treatment System supports circuit board fabrication.
Press Release Summary: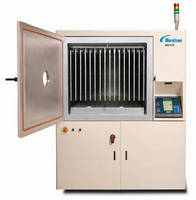 Providing 15-cell chamber in 1.7 x 1.7 m footprint, MaxVIA-Plus™ treats HDI, flexible, and rigid panels for desmear, etchback, and landing pad cleaning operations. PCBs are vertically loaded using easy-loading cart, which minimizes idle time. With unique vacuum and gas flow technology, optimized electrode designs, and temperature management, plasma system delivers highly uniform PCB treatment.
---
Original Press Release:

Nordson MARCH Introduces New MaxVIA-Plus(TM) Plasma Treatment System for Electronic Circuit Board Fabrication



Their Korean distributor, Worldtechnology, will demonstrate the new plasma system in their booth #E301 at the PCB manufacturers' event, KPCA



KPCA Booth #E301



Concord, California, USA -  Nordson MARCH, a Nordson Company (NASDAQ: NDSN), and global leader in plasma processing technology, introduces its new MaxVIA-Plus™ plasma treatment system at the Korea Printed Circuit Association (KPCA) exhibition, Gyeonggi-do, Korea, 22-24 April 2014, in their distributor Worldtechnology's booth #E301. The new MaxVIA-Plus™ plasma treatment system accommodates larger panel sizes within a small footprint during electronic circuit board fabrication for desmear, etchback, and landing pad cleaning operations.



Nordson MARCH's partner in Korea, Worldtechnology (www.worldtechnology.co.kr) has already received multiple orders from a major flexible PCB manufacturer for the MaxVIA-Plus and other plasma treatment systems.



The MaxVIA-Plus system treats HDI, flexible, and rigid panels, accommodating larger panel sizes within a small footprint (1.7 x 1.7 meters) for desmear, etchback, and landing pad cleaning operations. The new, larger, 15-cell chamber in the MaxVIA-Plus system processes more units per hour (UPH), resulting in high throughput and maximum production flexibility. Its unique vacuum and gas flow technology, new electrode designs, and superior temperature management creates a plasma system that delivers highly uniform PCB treatment.



"The advanced technology production processes in Korean PCB manufacturing demands high-performance plasma treatment equipment," explained Jonathan Doan, director of marketing, Nordson MARCH. "Our new MaxVIA-Plus™ plasma system delivers a superior level of plasma treatment uniformity at high throughput while also delivering reduced cost-of-ownership. We are pleased to introduce this new system with our Korean partner Worldtechnology."



Several factors make the cost of ownership for the MaxVIA-Plus™ one of the lowest in its class. The system features a compact and service-friendly design. The PCBs are vertically loaded using easy-loading carts, which minimizes idle time and improves productivity. The fast vacuum pump down, low gas consumption, and enhanced process cycle times further add to the throughput and productivity of the system.



Plasma treatment uniformity is a key operational feature in desmear and etchback applications for HDI, flexible and rigid circuit board fabrication. The MaxVIA-Plus utilizes a unique and patented plasma technology to produce superior uniformity at high throughputs. Plasma can deliver higher uniformity and reproducibility than chemical or mechanical processes.



The KPCA 2014 show is organized by the Korea Printed Circuit Association and sponsored by WECC (World Electronic Circuits Council) and AFEC (Asian Federation of Electronic Circuits). It will be held from April 22- 24, 2014 in KINTEX, Goyang, Gyeonggi-do, Korea.



About Nordson MARCH

Nordson MARCH is the global leader in plasma processing technology for the semiconductor, printed circuit board (PCB), microelectronics, and medical & life science device manufacturing industries. Nordson MARCH has offices and applications laboratories worldwide, including California, Florida, Europe, Singapore, China, Japan, Korea and Taiwan. With over 25 years of continuous innovation, Nordson MARCH designs and manufactures a complete line of award-winning and patented plasma processing systems. An expert staff of scientists and engineers is available to assist in the development of plasma processes that improve product reliability and increase production yields. Visit Nordson MARCH on the web at www.nordsonmarch.com, or follow on social media Facebook, Google+, LinkedIn, or YouTube.



About Nordson Corporation

Nordson engineers, manufactures and markets differentiated products and systems used for dispensing and processing adhesives, coatings, polymers, sealants and biomaterials; and for managing fluids, testing and inspecting for quality, treating surfaces and curing. These products are supported with extensive application expertise and direct global sales and service. We serve a wide variety of consumer non-durable, consumer durable and technology end markets including packaging, nonwovens, electronics, medical, appliances, energy, transportation, building and construction, and general product assembly and finishing. Founded in 1954 and headquartered in Westlake, Ohio, the company has operations and support offices in more than 30 countries. Visit Nordson on the web at www.nordson.com,  www.twitter.com/Nordson_Corp  or www.facebook.com/nordson.



For more information contact:



In Korea:

Steve Cho

World Technology

Tel: +82-10-6392-9544

Email: stevec@worldtechnology.co.kr

Website: www.worldtechnology.co.kr



In USA:

Roberta Foster-Smith

Nordson MARCH (International Headquarters)

2470-A Bates Avenue

Concord, California 94520 U.S.A.

Tel.: +1.925.827.1240

Email: roberta.foster-smith@nordsonmarch.com 

Website: www.nordsonmarch.com

Related