Plasma Systems are offered with XT(TM)-300 automation torch.
Press Release Summary: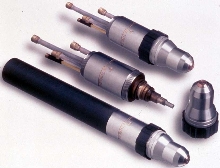 HD3070® plasma systems are available with XT(TM)-300 High Precision Plasma Cutting Torch, which cuts stainless steel, mild steel, aluminum, and non-ferrous metals. Cuts have sharp edges with little or no dross, smooth cutting edge surface, and minimized heat-affected zone. Able to produce straight holes, torch features keyless consumables cartridge that can be installed or changed without changing torch head.
---
Original Press Release:

New XT(TM) -300 Automation Torch Upgrades HD3070® Plasma Systems


St. Louis - February 22, 2005 - Thermal Dynamics® Automation has introduced the new XT(TM)-300 High Precision Plasma Cutting Torch to upgrade existing HD3070® plasma systems, significantly improving performance and lowering operation costs for end users.

The XT-300's high precision cutting on ½" metal, provides excellent cutting results on all metals including stainless steel, mild steel, aluminum and non-ferrous material. Cuts have sharp edges with little or no dross, a smooth cutting edge surface and small heat-affected zone. Thermal Dynamics' high precision cutting holds high tolerances and narrow curve radius, and cuts small, straight holes.

Cut speeds and quality are greatly improved with the XT-300 compared to performance characteristics of the PAC186® torch used as standard equipment with the HD3070 system. XT-300 consumable parts can cut nearly twice as much material as the PAC186 before replacement, without sacrificing cut quality. Its consumables are engineered to last, generating nearly twice the number of cutting starts. Operation costs of the XT-300 show up to 40% less gas consumption and consumable parts cost savings of up to 20%.

A unique feature of the XT-300 is its "keyless" consumables cartridge. This cartridge houses consumable parts and the entire cartridge with consumable parts can be installed or changed without changing the torch head. Changing cartridges is fast and easy - a couple of twists and the "rapid engagement" retaining collar threads release the cartridge. Downtime is reduced to mere minutes. Changing from one process to another or from one application to another is simple and quick.

The XT-300 is backed by a one-year warranty and Thermal Dynamics' 30-day satisfaction guarantee.

Thermal Dynamics is a division of Thermadyne® Holdings, a global welding and cutting products company with headquarters in St. Louis, Mo. The company is comprised of long-standing market leading companies representing many of the most respected brand names in the welding and metal fabricating industry. For more information, visit the Thermal Dynamics web site at www.thermal-dynamics.com, or phone 888-832-3477.