Plasma System suits semiconductor and electronics packaging.
Press Release Summary: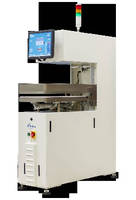 Equipped with 5.5 liter plasma chamber, FlexTRAK-S™ supports variable-size form factors including boats, carriers, Jedec/Auer® boats, strips, and laminates. System can be configured for magazine-to-magazine processing of single and multiple strips or lead frames, reel-to-reel, and as standalone for island-based production environments. Offering direct, downstream, and ion-free plasma treatment modes, system features SMART Tune™ Management System for closed-loop plasma control.
---
Original Press Release:

Nordson MARCH Introduces the FlexTRAK-S Plasma System with Large Capacity Plasma Chamber for Advanced Semiconductor and Electronics Packaging



Integrates with a variety of process equipment in electronics manufacturing to offer flexibility and excellent plasma treatment



Visit Nordson MARCH at SEMICON Taiwan, in partner Schmidt Scientific Taiwan, Ltd's Booth #526 and partner Premtek's Booth #543



Concord, California, USA — Nordson MARCH, a Nordson® company (NASDAQ: NDSN) and global leader in plasma processing technology, extends its line of TRAK™ technology products with the FlexTRAK-S™ large-capacity plasma system for advanced semiconductor and electronic packaging. The 5.5-liter plasma chamber has a high-power RF generator and better vacuum conductance so the FlexTRAK-S performs with the same consistent plasma treatment uniformity, efficiency, and short cycle times as the smaller version. Using plasma prior to bonding, molding or marking delivers cleaner surfaces for these electronics production processes.



The FlexTRAK-S is a highly configurable, high-throughput plasma system. Its universal architecture, which remains the same even if elongated, accommodates twice as many substrates and a multitude of material handling configurations to support a wide assortment of variable-size form factors including boats, carriers, Jedec/Auer® boats, strips, and laminates. Depending on throughput and product form requirements, the system can be configured for magazine-to-magazine processing of single and multiple strips or lead frames, reel-to-reel, and as a standalone for island-based production environments. It has a slim width (382 mm) that requires minimal floor space. The frame is designed so that all service components are easily accessed from the front.



The system can be configured to apply three different modes of plasma treatment: direct, downstream, and ion-free. The FlexTRAK-S SMART Tune™ Management System provides closed-loop plasma control that optimizes the RF system and minimizes tuning time. The system automatically recycles to a plasma-ready state, compensating for changes in vacuum pressure, temperature, and varied lot sizes. Maximum power to the chamber is achieved in seconds with a proprietary algorithm that constantly measures forward and reflective power inside the chamber.



The data sheet can be found at http://www.nordson.com/en-us/divisions/march/products/FlexTRAK-Series/Documents/Brochures/FlexTRAK-S-Plasma-System-NordsonMARCH.pdf.  For more information, contact Nordson MARCH at info@nordsonmarch.com or visit us on the website at www.nordsonmarch.com.



About Nordson MARCH

Nordson MARCH is the global leader in plasma processing technology for the semiconductor, printed circuit board (PCB), microelectronics, and medical & life science device manufacturing industries. Nordson MARCH has offices and applications laboratories worldwide, including California, Florida, Europe, Singapore, China, Japan, Korea and Taiwan. With over 25 years of continuous innovation, Nordson MARCH designs and manufactures a complete line of award-winning and patented plasma processing systems. An expert staff of scientists and engineers is available to assist in the development of plasma processes that improve product reliability and increase production yields. Visit Nordson MARCH on the web at www.nordsonmarch.com or Facebook or Google+.



About Nordson Corporation

Nordson engineers, manufactures and markets differentiated products and systems used for dispensing and processing adhesives, coatings, polymers, sealants and biomaterials; and for managing fluids, testing and inspecting for quality, treating surfaces and curing. These products are supported with extensive application expertise and direct global sales and service. We serve a wide variety of consumer non-durable, consumer durable and technology end markets including packaging, nonwovens, electronics, medical, appliances, energy, transportation, building and construction, and general product assembly and finishing. Founded in 1954 and headquartered in Westlake, Ohio, the company has operations and support offices in more than 30 countries. Visit Nordson on the web at www.nordson.com,  www.twitter.com/Nordson_Corp  or www.facebook.com/nordson.



For more information contact:



In USA:

Roberta Foster-Smith

Nordson MARCH (International Headquarters)

2470-A Bates Avenue

Concord, California 94520 U.S.A.

Tel.: +1.925.827.1240

Email: roberta.foster-smith@nordsonmarch.com 

Website: www.nordsonmarch.com

More from Controls & Controllers