Plasma System expands from 4 to 8 cells to increase capacity.
Press Release Summary: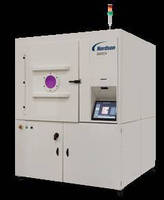 Along with 65 x 69 x 97 in. chamber and 4–8 cell (8–16 panel) capacity, ModVIA™ provides technology to treat PCBs for desmear and etchback as well as provide surface activation. Integrated system accommodates diverse PCB panel technologies in various shapes and sizes, including rigid, flexible, through-hole, and blind via, and works with range of process gases: such as Ar, O2, N2, and CF4. While nominally equipped with 3 electronic mass flow controllers (MFCs), gas system supports 5 MFCs.
---
Original Press Release:

Nordson MARCH's Compact ModVIA Plasma System is Easily Expandable from 4 to 8 Cells to Increase Machine Capacity for Production Demands



Performs desmear, etchback, and surface activation in the manufacturing of printed circuit boards



Concord, California, USA – Nordson MARCH, a Nordson company (NASDAQ: NDSN) a global leader in plasma cleaning technology, introduces its ModVIA™ plasma system, a fully integrated, flexible system that doubles its capacity from 4 to 8 cells (8-16 panels) to easily accommodate manufacturing production growth. The ModVIA's compact design and small footprint save valuable floor space while delivering the same time-tested results and proven technology to treat printed circuit boards for desmear, etchback, and to provide surface activation, like other systems in the Nordson MARCH VIA™ family. The new plasma system fits the needs of small- to medium-sized businesses or R&D institutions that process low-volume, high-mix products.



The ModVIA accommodates a broad array of PCB panel technologies in various shapes and sizes including rigid, flexible, through-hole, and blind via, and works with a wide range of process gases such as Ar, O2, N2, and CF4. Nominally equipped with three electronic mass flow controllers (MFCs) for optimal control and delivery, the gas system can support a total of five MFCs. The temperature-controlled high flux electrode (HFE) design, VIA series control system, and advanced plasma cleaning technology minimize CF4 usage, reduce cost of ownership, and produce PCBs with increased bonding performance and reduced electrical failures.



"The ModVIA is Nordson MARCH's latest release in the market-leading VIA Series of plasma treatment systems for the PCB manufacturing industry," said Dave Selestak, Nordson MARCH business development manager. "The ModVIA's field expandable design allows manufacturers the flexibility to grow machine capacity in parallel with production capacity growth requirements. The self-contained compact design and advanced plasma treatment technology provide end users with superior process uniformity and the ultimate in PCB processing capability. The ModVIA Plasma System maintains a perfect balance between its predecessors, the PCB-800/1600, and its contemporaries, the Pro- and MaxVIA™ systems."



The chamber of the ModVIA is smaller -- 1652W x 1747D x 2445H mm (65W x 69D x 97H in.) - than other VIA systems, but everything else has been upgraded, from the gas distribution and pump package to the user interface and control parameters. The chamber processes the PCB panels in separate plasma cells to deliver high etch rates. The chassis houses the plasma chamber (which is constructed of high-quality aluminum for superior durability), the control electronics, 40 kHz RF generator, pump/blower package, and automatic matching network. Maintenance access is available from either front or rear access panels. The system is EH&S/Ergonomics compliant and CE marked.



For more information contact Nordson MARCH at info@nordsonmarch.com, call +1.925.827.1240, or visit our website at http://www.nordson.com/en/divisions/march/products/plasma-treatment-systems/modvia-expandable-plasma-system.



About Nordson MARCH

Nordson MARCH is the global leader in plasma processing technology for the semiconductor, printed circuit board (PCB), microelectronics, and medical & life science device manufacturing industries. Nordson MARCH has offices and laboratories worldwide, including California, Europe, Singapore, China, Japan, Korea and Taiwan. With over 25 years of continuous innovation, Nordson MARCH designs and manufactures a complete line of award-winning and patented plasma treatment systems. An expert staff of scientists and engineers is available to assist in the development of plasma processes that improve product reliability and increase production yields. Visit Nordson MARCH at www.nordsonmarch.com, www.facebook.com/NordsonMARCH, www.twitter.com/NordsonMARCH, or Google+.



About Nordson Corporation

Nordson Corporation delivers precision technology solutions that help customers succeed worldwide. Precision dispensing of adhesives, coatings, sealants, biomaterials, and other fluids, plastic extrusion and injection molding, electronics testing and inspecting, and surface preparation are supported by applications expertise and direct global support. Nordson serves consumer non-durable, durable and high-technology markets, specializing in packaging, nonwovens, electronics, medical, energy, transportation, construction, and product assembly. Founded in 1954, headquartered in Westlake, Ohio, USA, Nordson has operations and support offices in 30+ countries. Connect with Nordson at www.nordson.com and on social media.



For more information contact:

In USA:

Roberta Foster-Smith

Nordson MARCH (International Headquarters)

2470-A Bates Avenue

Concord, California 94520 U.S.A.

Tel.: +1.925.827.1240

Email: roberta.foster-smith@nordsonmarch.com

Website: www.nordsonmarch.com



Agency Contact:

Andrea Roberts

A R Marketing, Inc.

Tel: +1.858.204.9584

Email: andrea@armarketinginc.com

More from Electronic Components & Devices