Miscellaneous Cleaning Equipment
Plasma Etch, Inc. Has Introduced the PE-50 XL Bench Top Plasma Cleaner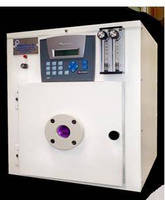 Plasma Etch, Inc. has introduced the PE-50 XL bench top plasma cleaner in response to the high interest and popularity of their PE-50 model.

The PE-50 XL offers all of the features of the PE-50, both come with an implosion proof rectangular welded aluminum vacuum chamber, however the PE-50 XL has a larger chamber working area of 8"w x 8"d x 4"h for those looking to process larger applications. The PE-50 XL is the most affordable and highest quality plasma cleaner of its type on the market. The PE-50 series have a low starting price of $10,950.

The PE-50 XL is manufactured by Plasma Etch, regarded in the industry as a leader in workmanship, precision engineering and custom design of plasma etching/cleaners of all types using their own unparalleled patented technologies. The PE-50 XL is built at and supported from our headquarters located in Carson City Nevada. For more information or to request a quote please call (775)883-1336 or visit www.plasmaetch.com.

More from Labels Tags Signage & Equipment