Miscellaneous Cleaning Equipment
Plasma Etch, Inc. Announces Lower pricing on Atmospheric Plasma System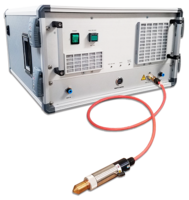 Carson City, NV – Plasma Etch Inc, a leader in plasma innovation, recently announced more attractive pricing on the Atmospheric Plasma System.
The Atmospheric Plasma System is an "open air" or atmospheric system designed for industrial surface modification. Atmospheric plasma is often used before printing or gluing to increase the strength of the bond between a product and glue or ink.
With 1000 watts of power, this cleaning system was designed to activate the surface of nearly any material at speeds of up to 40 meters per minute. It can use a variety of input gases, and it's safe on conductive and non-conductive surfaces alike.
The system is flexible and can be mounted using very little space, perfect for implementation into existing assembly operations.
For more information, visit Plasma Etch's website: www.plasmaetch.com
About Plasma Etch, Inc: Plasma Etch has been a leading manufacturer and industry innovator since 1980. The company holds several patents for the invention, development, and manufacturing of groundbreaking innovations, paving the way for plasma technology and the enhancement of quality manufacturing worldwide. Plasma Etch specializes in plasma cleaning solutions of all sizes. Their products are industry proven and set the standard for reliability, speed and uniformity in plasma processing.
Contact information:
Plasma Etch, Inc.
3522 Arrowhead Drive
Carson City, NV 89706
(775) 883-1366