Gas and Chemical Sensors / Detectors
Plasma Emission Detector aids cryogenic ASU production.
Press Release Summary: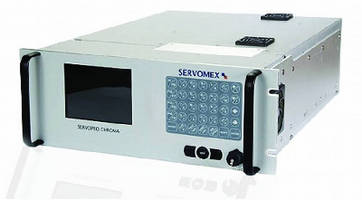 Combining 2 separate Plasma Emission Detectors, each with separate valve and column channels to individual and simultaneously measure CH4 and NMHC, SEROPRO Chroma offers complete solution for coincident measurement of Methane and Non-Methane Hydrocarbons. Integrated software offers access to all functions, measurements, and system status via user interface. In addition to 4-20 mA output for each measurement, system provides Ethernet and Internet connectivity for remote monitoring.
---
Original Press Release:

New Servopro Chroma Enables Simultaneous Hydrocarbon Measurement in Cryogenic ASU Production



Crowborough, UK, - In combining the latest Plasma Emission Detector technology with improved operational and communications capabilities, the SERVOPRO Chroma from Servomex gives cryogenic ASU operators total flexibility in measuring hydrocarbons present in ambient air.

Constant hydrocarbon measurement is crucial in ASU production, as hydrocarbons that build up in the cryogenic portion of the process pose an explosion risk when mixed with enriched air or pure oxygen. Depending on the results of an ambient air test to determine the types and level of hydrocarbons present, plant operators must decide whether to measure for Total Hydrocarbons Measurement (THC), Methane and Non-Methane Hydrocarbons (CH4 & NMHC), or measure for individual hydrocarbons including Methane, Acetylene, Propane, Propylene, Ethane and Ethylene.

THC Measurement, where the variety of hydrocarbons in ambient air is limited, can be monitored using Flame Ionization Detector (FID) technology such as that provided by Servomex's SERVOPRO FID. However when the ambient air at a plant contains a variety of hydrocarbons that have different Lower Explosive Limits (LEL), many operators choose to separate the total measurement into two measurements for Methane and Non-Methane Hydrocarbons. These measurements usually require setting separate trip points at which a plant can be shut down to avoid an explosion, with CH4 usually measured over a 0-100 ppm range and the lower-LEL NMHC measured over a 0-5 ppm range.

However if a plant trip point set for a FID analyser is based solely on a CH4 measurement range, the potential exists for Non-Methane Hydrocarbons to accumulate above their LEL and the possibility of dangerous operating conditions. Conversely, if a trip point is based on a lower NMHC ppm level, then the FID analyser may initiate an unnecessary and costly plant shutdown too early and too often as the safe CH4 level activates the lower NMHC trip point.

By housing two separate Plasma Emission Detectors, each with separate valve and column channels to individually and simultaneously measure CH4 and NMHC, the SERVOPRO Chroma is the complete solution for the coincident measurement of Methane and Non-Methane Hydrocarbons. As the Chroma's Plasma technology requires only an Argon or Helium carrier gas to function, and does not require the constant flowing fuel gas required by FID detection techniques, installation costs - including the installation of shut off valves & LEL Gas Detectors - and overall cost-of-ownership for the Chroma is considerably reduced in comparison to using FID technologies for this application.

The Chroma is designed for easy operation, with integrated software that improves on the Chroma's predecessor, the KA k4000, to offer full access to all functions, measurements and system status via a intuitive user interface. Ease of use is complemented by a comprehensive range of communication options, with individual 4-20mA outputs available for each measurement and improved ethernet and internet connectivity enabling the unit to be remotely monitored via a network or an internet browser.

For more information about the SERVOPRO Chroma, contact the European Business Centre (+31 (0) 79 330 1581 / 00800 737866390 Toll free in France, Holland, Germany, Belgium and the UK) Americas Business Center (+1 281 295 5800) or Asia Pacific Business Centre (+86 (0)21 6489 7570). For more information visit www.servomex.com.

Servomex Group Ltd

As the world expert in gas analysis, Servomex has established itself as the leading provider of reliable, accurate and stable gas measurement solutions to industries across the globe.

An acknowledged innovator in gas analysis technologies for more than 50 years, Servomex is the originator of and world leader in paramagnetic sensing technology and has an exceptional reputation in the development of zirconia, photometric and thick film technologies. The result is high-performance, cost-effective gas analysis, delivered through a portfolio of dependable products ranging from portable gas analysers to complex process solutions.

Servomex has extensive experience of working with multi-national companies across a range of industries including hydrocarbon processing, industrial gas and OEM markets, ensuring our knowledge and expertise closely matches the requirements of our customers.
Servomex is part of Spectris plc, a leading supplier of instrumentation and controls to global markets.

More from Laboratory and Research Supplies and Equipment