Plasma / Flame / Laser Cutters and Cutting Machinery
Plasma Cutting System features built-in process database.
Press Release Summary: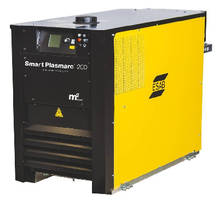 Designed for heavy-duty mechanized cutting, Smart Plasmarc™ 200 m2 System cuts broad range of material types and thicknesses using air, oxygen, or nitrogen gases. System delivers high productivity piercing and cutting in mild steel up to 1.25 in. thick, with capacity to edge start and sever materials up to 2 in. thick. Offering fully 100% duty cycle at 200 A, Smart Plasmarc™ 200Â  provides high cut quality with minimal dross, reduced warping, and small heat-affected zone.
---
Original Press Release:

New 200-AMP Plasma Cutting System from ESAB Delivers High Productivity Piercing and Cutting



Florence, SC -- ESAB Cutting Systems introduces Smart Plasmarc™ 200, a new m2 plasma system for heavy-duty mechanized cutting. The m2 plasma system cuts a broad range of material types and thicknesses using air, oxygen or nitrogen gases. It delivers high productivity piercing and cutting in mild steel up to 38 mm (1.25 inches) thick, with capacity to edge start and sever materials up to 50 mm (2 inches) thick, and is engineered for high reliability and easy operation.



High cutting speeds improve efficiency and produce more cut parts per hour. When compared to oxy-fuel, ESAB's m2-200 is more than four times faster on 12 mm (1/2 inch) mild steel. Quick setups and process changes also maximize the productivity of this cutting system.



The m2-200 system provides high cut quality with minimal dross, reduced warping and a small heat-affected zone, resulting in fewer secondary operations and a lower per-part cost than oxy-fuel cutting. A full 100 percent duty cycle at 200 amps enables the system to handle the most demanding production requirements with the highest reliability.



ESAB's newest plasma cutting system is also inherently easy to use. A built-in process database features optimized cutting parameters that help ensure consistent cutting results. Parameters are selected and controlled in one step. Simple and intuitive operator controls reduce the need for operator training, minimize errors and shorten setup time. Advanced diagnostics simplify troubleshooting and maintenance. The system is built to be quick and easy to install, allowing for immediate productivity gains.



Reliable performance across a wide range of industrial applications is assured with a proven power supply design and heavy-duty fluid cooled cutting torch. ESAB's design requires fewer wear parts than similar plasma torches, reducing parts inventory and handling, thus saving time and expense. ESAB's innovative torch geometry ensures consistent cut quality and a long service life.



The m2-200 replaces ESAB's mechanized ESP-150 and ESP-200 systems. ESP-150 packages with hand torches and in-line torches remain available for non-automated cutting applications.



For more than 75 years, ESAB Cutting Systems has been offering off the shelf, turnkey solutions to customers around the world. ESAB Cutting Systems is a total system supplier, offering CNC shape cutting machines in a variety of sizes, using a wide range of cutting technology to include plasma, oxy-fuel, laser, and waterjet tools, programming and nesting software, and CNC controls.



ESAB Welding & Cutting Products is a recognized leader in the welding and cutting industry. From time-honored processes in welding and cutting to revolutionary technologies in mechanized cutting and automation, ESAB's welding consumables, equipment, and accessories bring solutions to customers around the globe. For more information, visit www.esab.com or call 800.ESAB.123.



FOR MORE INFORMATION, CONTACT:

Ruben Chico

843-664-4205

rchico@esab.com



Loretta Degasperi

843-664-4274

ldegasperi@esab.com

More from Mounting & Attaching Products