Plant Floor Control Software can be managed via Web.
Press Release Summary: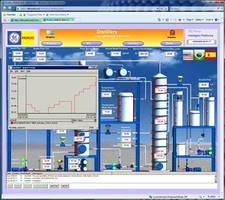 Proficy® CIMPLICITY GlobalView enables real-time monitoring, data analysis, and plant floor control from within web browser. Providing fully featured HMI/SCADA client, it enables operators, engineers, and managers to view, react, and operate from wherever they are. Scalable application lets multiple users connect to same system to analyze situations and make decisions quickly.
---
Original Press Release:

GE Fanuc Intelligent Platforms Announces Proficy® CIMPLICITY GlobalView Enabling Real-Time Plant Floor Access at All Organization Levels



GlobalView Enabling Real-Time Plant Floor Access At All Organization Levels

Achieve powerful control and visualization within the plant or across the globe

Charlottesville, VA, September 17, 2009 - GE Fanuc Intelligent Platforms, a unit of GE Enterprise Solutions, today announced the availability of Proficy® CIMPLICITY GlobalView, a highly scalable application that delivers the power of CIMPLICITY to remote clients enabling real-time monitoring, data analysis and plant floor control from within a web browser.

"Companies need access to real-time information about their operations at all levels of the organization," said Claire Cerrato, General Manager of GE Fanuc Intelligent Platforms' Automation Software group. "Companies are increasing their mobile workforces and require highly-scalable non-compromising products to keep them connected. CIMPLICITY GlobalView enables full viewing and control of plant operations and expands the native integration of CIMPLICITY with GE Fanuc's other Proficy software, providing additional solution possibilities."

GlobalView provides a full-featured HMI/SCADA client delivered over the web so operators, engineers and managers can view, react, and operate from wherever they are. This enables efficient response to situations avoiding significant downtime, lost batches or catastrophic events. It also transforms the way teams work and collaborate because with GlobalView, multiple users can easily connect to the same system to analyze the situation and make quick fact based decisions. Users also don't have to compromise functionality or re-write current applications in order to get accessibility. Ease of installation makes this a quick add-on for existing and new systems.

GlobalView extends GE Fanuc's existing footprint in HMI/SCADA to knowledge workers not on or directly tied to the plant floor. GlobalView also introduces a Proficy first technology, the Relay Server, which makes deploying HMI/SCADA on a massive scale possible. With a Relay Server deployed in the GlobalView architecture and multiple GlobalView servers underneath, customers have the ability to truly globalize their applications and support 100s of simultaneous users with the only limitation being server hardware. The new software capability opens new doors to innovative web-only CIMPLICITY-based applications providing the ability to connect to previous versions of CIMPLICITY without any additional development.

The product has been developed on top of CIMPLICITY, so it complies with GE Fanuc Intelligent Platforms' open and layered strategy and enables the web user to harness the proven power of CIMPLICITY anywhere, anytime, anyplace.

"This product is a big step forward in the accessibility of real-time data to a large amount of users," continued Cerrato. "GlobalView, along with CIMPLICITY 8.0 - released in 2009, validates GE Fanuc's commitment to providing innovative and scalable solutions to solve customer needs particularly in this challenging economic climate."
For more information: www.gefanuc.com/globalview.

About GE Fanuc Intelligent Platforms

GE Fanuc Intelligent Platforms, a joint venture between General Electric Company (NYSE: GE) and FANUC LTD of Japan, is an experienced high-performance technology company and a global provider of hardware, software, services, and expertise in automation and embedded computing. We offer a unique foundation of agile, advanced and ultra-reliable technology that provides customers a sustainable advantage in the industries they serve, including energy, water, consumer packaged goods, government & defense, and telecommunications. GE Fanuc Intelligent Platforms is a worldwide company headquartered in Charlottesville, VA and is part of GE Enterprise Solutions. For more information, visit www.gefanuc.com.

About GE Enterprise Solutions

GE Enterprise Solutions elevates customers' productivity and profitability with integrated solutions using sensors and non-destructive testing; security and life safety technologies; power system protection and control; and plant automation and embedded computing systems. Enterprise Solutions' high-tech, high-growth businesses include Sensing & Inspection Technologies, Security, Digital Energy, and GE Fanuc Intelligent Platforms. The business has 17,000 problem-solving employees in more than 60 countries around the world.

Proficy is a registered trademark of GE Fanuc Intelligent Platforms. All other trademarks are the property of their respective owners.

More from Communication Systems & Equipment