Plant Control Console meets mobile plant operator needs.
Press Release Summary: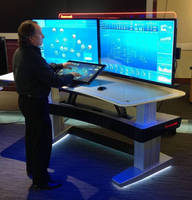 Built upon Experion Process Knowledge System control platform, Experion® Orion Console offers ergonomic design that reduces operator fatigue as well as displays that simplify control system management and improve situational awareness. Flexible, ultra-high definition display provides clear status assessments of process operations in one glance, and operators can customize displays for context-specific process issues. Alarm management and pan and zoom capabilities are also standard.
---
Original Press Release:

Honeywell Brings the Future of Plant Control Rooms to Life with Newly Released Experion Orion Console



Ergonomic Design and Improved Display Reduces Operator Fatigue and Improves Effectiveness in Solving Process Issues



HOUSTON — Honeywell (NYSE: HON) Process Solutions today announced availability of the Experion® Orion Console, an advanced display technology that brings the plant control room of the future to life by meeting the changing needs of the increasingly mobile plant operator. It was unveiled at the 2014 Honeywell Users Group Symposium in San Antonio, Texas.



The console – which builds on Honeywell's flagship Experion Process Knowledge System (PKS) control platform – features an improved ergonomic design and better displays to simplify control system management, reduce operator fatigue and improve situational awareness.



The Experion Orion Console's design was based on operator input gleaned from numerous visits to plant control rooms around the world and across industries, in both newer and older plants. The design and capabilities are the result of behavior observations, as well as insights collected in multiple phases at plants, including process startups and during periods of abnormal operations.



"The state of plant control today is like putting operators on a sleepless, 12-hour flight in economy-class seating and then asking them to make a critical decision that impacts their company's production and employee safety," said Jason Urso, chief technology officer, Honeywell Process Solutions. "Operators need more than just process data to make a decision like that; they need an environment that helps keep them alert, allows them to move about more freely, and presents information more intuitively. The Experion Orion Console was designed with all of those factors in mind."



The console's features include a large flexible, ultra-high definition display that provides clear status assessments of process operations in a single glance for better and more-informed management. This flexibility also enables operators to customize displays for context-specific process issues, and incorporates advanced alarm management and pan and zoom capabilities. Limits and targets are directly integrated into overview displays, allowing operation of the process closer to the optimum and allowing operators an increased scope of responsibility across the industrial facility.



Touch panel displays provide the primary operating interface that better enables operators to quickly and accurately respond to changing conditions and prevent situations that could lead to plant incidents and emergencies.



Aside from the actual information, however, the console has a mobile tablet that also reduces operator fatigue by allowing personnel to move about the control room more freely than before. When paired with wireless-enabled mobile technologies, the system also allows operators to view the same displays on hand-held devices in other areas of the plant.



"Plants must be designed and built according to a company's specific production needs, but the control rooms themselves should be built around the operators' needs," Urso said. "If you meet the operators' needs, they can manage the plant more effectively and at optimum levels, which ultimately impacts plant safety, reliability and efficiency more than anything else."

For further information, please visit www.honeywellprocess.com.



Honeywell Process Solutions (www.honeywellprocess.com) is a pioneer in automation control, instrumentation and services for the oil and gas; refining; pulp and paper; industrial power generation; chemicals and petrochemicals; biofuels; life sciences; and metals, minerals and mining industries. Process Solutions is part of Honeywell's Performance Materials and Technologies strategic business group, which also includes UOP, a leading international supplier and licensor of process technology, catalysts, adsorbents, equipment, and consulting services to the petroleum refining, petrochemical, and gas processing industries.



Honeywell (www.honeywell.com) is a Fortune 100 diversified technology and manufacturing leader, serving customers worldwide with aerospace products and services; control technologies for buildings, homes and industry; turbochargers; and performance materials. Based in Morris Township, N.J., Honeywell's shares are traded on the New York, London, and Chicago Stock Exchanges. For more news and information on Honeywell, please visit www.honeywellnow.com.



Experion® is a registered trademark of Honeywell International Inc.

Related