Plano-Concave Axicons suit laser material processing.
Press Release Summary: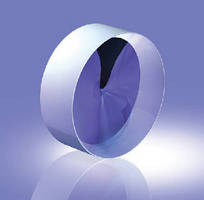 Featuring one concave conical surface and one plano surface, Plano-Concave Axicons are used in laser material processing to create ring-shaped image along optical axis and non-diffractive approximation of Bessel beam. Units are available in twelve 25.4 mm diameter models with apex angles of 90, 130, 140, 160, 170, or 175°, and either VIS 0° or NIR I coating. When Plano-Concave Axicons are used with Plano-Convex Axicons, diameter of Bessel beam can be controlled by separation between two Axicons.
---
Original Press Release:

Plano-Concave (PCV) Axicons Create Ring Shaped Approximation of Bessel Beam



Ideal for laser material processing applications



Barrington, N.J. - Edmund Optics (EO), the premier provider of optical components, introduces new Plano-Concave (PCV) Axicons. These specialized conical prisms feature one concave conical surface and one plano surface. They are used in laser material processing to create a ring-shaped image along the optical axis, as well as to create a non-diffractive approximation of a Bessel beam. As opposed to Gaussian beams, which deteriorate over distance, Bessel beams maintain an unchanged transversal distribution as they propagate.



Use with Plano-Convex (PCX) Axicons to control ring diameter

When Plano-Concave (PCV) Axicons are used with Plano-Convex (PCX) Axicons, the diameter of the Bessel beam can be controlled by the separation between the two Axicons. This feature is ideal for ablating corneal material in surgical procedures. Plano-Concave (PCV) Axicons are excellent for measurement and alignment, research, as well as medical and life science applications that require a ring shaped laser output.



Apex angles from 90° to 175° are available

Plano-Concave (PCV) Axicons are available in twelve different 25.4 mm diameter models. Apex angles of 90°, 130°, 140°, 160°, 170° and 175° are offered with either a VIS 0° coating or a NIR I coating. All Plano-Concave (PCV) Axicons models are in-stock and available for immediate delivery for fast turnaround and excellent value.



About EO:

Edmund Optics® (EO) is a leading producer of optics, imaging, and photonics technology for R&D, electronics, semiconductor, pharmaceutical, biomedical, and military markets around the globe. EO is the world's largest supplier of off-the-shelf optical components. Customers can purchase items by contacting EO at 1-800-363-1992, via the catalog, or via the website at www.edmundoptics.com



Company Contact:

Kirsten Bjork-Jones

Director Global Marketing Communications

Edmund Optics®, Inc.

101 East Gloucester Pike

Barrington, NJ 08007 U.S.A.

Phone: 1-800-363-1992

Fax: 1-856-573-6295

email: kbjork-jones@edmundoptics.com



European Contact:

Agnes Huebscher

Director European Markeeting

Edmund Optics

Zur Giesserei 8

76227 Karlsruhe, Germany

Tel.:   +49 (0)721-62737-38

Fax:   +49 (0) 721 6273750

E-Mail:   AHuebscher@edmundoptics.de

More from Communication Systems & Equipment