Planetary Gearboxes ease disassembly from machine.
Press Release Summary: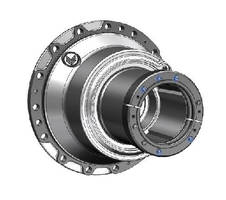 Suitable for harsh applications, 300 Series offers torque range of 1,000–1,287,000 Nm and gear ratios from 3.4–5,234. FDK version, with hollow shaft and 2 keys at 120°, uses axial locking ring with threaded holes for reliable shaft mounting. Keyed hollow shaft is available in sizes ranging from 300–310. FZP version, available in sizes from 311–325, features splined hollow shaft which meets DIN 5480 standard, and also includes axial locking key with threaded holes for mounting.
---
Original Press Release:

FDK and FZP Versions: New Easy Maintenance Series



The new FDK and FZP versions dramatically simplify operations for applications that require periodic maintenance. They also enable a quick and easy disassembling of the gearbox from the machine, thanks to the new output stage design. These design innovations are highly beneficial for applications in the mining, sugar processing and marine sectors.



Bonfiglioli´s 300 Series is a robust and versatile solution perfectly suited for harsh applications where shock loadings and impacts are more the rule than the exception. It features strong bearings to ensure a long lifespan. Bonfiglioli´s ongoing mission to improve and innovate their planetary gearboxes for industrial applications has led to two important new features that result in an easier and safer assembling/disassembling of the drive to/from the application. The new FDK and FZP versions feature an output hollow shaft that will make the series more effective and suitable for "shaft mount" assembly.  The hollow shaft solutions reduce the time and effort for the disassembling of the drive from the customer´s machine shaft, thanks to the new solution with the axial locking ring. The new product solutions make mounting and commissioning easier and faster thanks to the smarter design and allow for easier and more accurate screw tightening.



Furthermore, the cutting-edge design of the shrink disk will improve and speed up set up and commissioning.



The hollow shaft with the two keys at 120° will allow full rated torque and max torque transmissions. The axial locking ring with threaded holes completes the solution for an easier and more reliable shaft mounting.  They keyed hollow shaft is available in smaller sizes, ranging from 300 to 310 and will be included in the designation of the series with the acronym "FDK"; when the FZP version is available it will come in larger sizes from 311 to 325.



Another advanced design component of the new 300 series is the splined hollow shaft which meets the DIN 5480 standard and offers the same strong bearings available in the current FP version. It provides double centering for an aligned assembling of the solid shaft of the machine. Like the keyed hollow shaft, the splined hollow shaft also includes an axial locking key with threaded holes for easier mounting and grants full rated and max torque transmissions.



The new shrink disks prevent accidental mounting errors (even when dismounting and re-mounting the shrink disk) thanks to simpler design and "visual-control" of screw tightening torque.



This advanced design makes the 300 series now complete and effective for any shaft mounted requirements for all sizes and ratios. The series has a torque range of 1,000-1,287000 Nm and gear ratios of 3.4-5,234.



Bonfiglioli´s new 300 series offers customers a higher quality and more flexible solution due to its ability to adapt to client and application requirements and provides more control during the mounting process. It is also the most compact solution available on the market.



FDK: hollow shaft with dual keys and axial fixing ring

FZP: slotted hollow shaft with axial fixing ring

G0A: shrink disk in two parts



Jennifer  Panepinto

jennifer.panepinto@bonfiglioli.com



BONFIGLIOLI RIDUTTORI S.P.A

Via Giovanni XXIII 7/a

40012 Lippo di Calderara di Reno

Bologna, Italy

Deborah BRANDOLI

Phone: +39 051 647 3932

deborah.brandoli@bonfiglioli.com

More from Architectural & Civil Engineering Products