Planar Diffraction Gratings suit laser system applications.
Press Release Summary: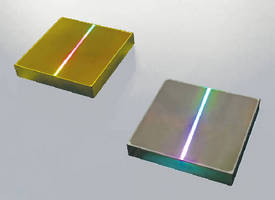 Available for 633–1064 nm waveband with 1,600 lines/mm, LA Series exhibits diffraction efficiency of 98%, which is critical to expansion and compression of laser pulses for light sources used in laser processing. Gratings can also be used in analytical instruments for research in life sciences, chemistry, and environmental monitoring, as well as synchrotron radiation and optical communications. Units can be customized with specific coating properties, substrates, and external shapes.
---
Original Press Release:

Shimadzu Corporation Launches New Series of Planar Diffraction Gratings for Laser System Applications



Shimadzu Corporation launches new series of planar diffraction gratings for laser system applications. The customizable 'LA series' planar gratings offer a high diffraction efficiency of more than 90% for near infra-red wavelength laser compressor applications.  Shimadzu Corporation diffraction gratings are used in analytical instruments for research in the life sciences, chemistry, environmental monitoring, as well as synchrotron radiation and optical communications applications. Shimadzu Corporation has the top share in Japan for diffraction gratings, underscoring the long history in the development of this technology.



(Kyoto, Japan) –On October 16, Shimadzu Corporation will launch the new customizable 'LA series' of planar diffraction gratings for laser systems. Diffraction grating elements for 633 nm to 1064 nm waveband with 1600 lines/mm, exhibit a diffraction efficiency of 98%—the highest in this category of technology. This feature is important for expansion and compression of laser pulses for light sources used in laser processing. The gratings can also be used in analytical instruments for research in the life sciences, chemistry, environmental monitoring, and optical communications.



Product website: http://www.shimadzu.com/products/opt/dif/5iqj1d000001w0ea.html



Shimadzu Corporation will produce customized gratings in accordance to customer requests for specific coating properties, and substrate and external shapes, for the production of gratings with the desired, highly specific characteristics.



The "LA Series' line up was developed specifically for laser applications and is expected contribute to advances in laser processing and medical research.



Background

Diffraction grating elements separate 'white light', which contains many different wavelengths of light, into separate wavelengths. Typically, diffraction gratings consist of a substrate surface ruled with highly ordered grooves with a density of hundreds to thousands of grooves per millimeter. Diffraction gratings are key devices for the extraction of specific wavelengths of light from multi-wavelength light sources for a wide range of industrial applications.



Shimadzu Corporation has a long history in the manufacture of high performance planar, concave, toroidal, and laminar gratings, and currently has the number one share in the Japanese market. Notably, the excellent aberration correction of the gratings is realized by the unique 'aspheric wave-front recording method' and reactive ion-beam etching technology. The low stray light and high diffraction efficiency of Shimadzu Corporation diffraction gratings finds a wide range of applications including analytical instruments used for research in the life sciences, chemistry, and environment, synchrotron radiation, as well as optical communications.



Recently, diffraction gratings are being increasingly integrated into (1) variable wavelength lasers that are used as light sources for medical imaging equipment such as optical coherence tomography (OCT);  and (2) high power pulsed lasers for laser processing.



In response to these demands, Shimadzu Corporation has further improved its highly cultivated metal coating technology enabling the production of highly resilient "LA series" diffraction gratings.



The "LA Series' line up was developed specifically for laser applications and is expected contribute to advances in laser processing and medical research.



Details and Characteristics



Main features of the "LA series" of diffraction gratings.



1. High diffraction efficiency over a wide wavelength range

The groove shapes are designed to attain the highest efficiency for TM polarized light for each laser wavelength band. These device characteristics are particularly suitable for external resonators and cavities, and pulse control.



In particular, diffraction grating elements for 633 nm to 1064 nm waveband with 1600 lines/mm, exhibit a diffraction efficiency of 98%—the highest in this category of technology. This feature is important for expansion and compression of laser pulses for light sources used in laser processing.



2. The 'LA series' line up

Shimadzu Corporation has developed nine types of diffraction gratings covering laser wavelengths from the visible to near infra-red for a wide range of applications.



The diffraction gratings are replicas of high precision masters by using two light interference exposure and reactive ion-beam etching technology, thus ensuring a stable supply of gratings and excellent cost performance.



Furthermore, Shimadzu Corporation will produce customized gratings in accordance to customer requests for specific coating properties, and substrate and external shapes for the production of gratings with the desired, highly specific characteristics.



Further information



Product name: Shimadzu diffraction grating for laser applications

Price: 200,000 JPY (excluding tax)

Expected sales: 100 million JPY (fiscal 2016)

URL: http://www.shimadzu.com/products/opt/dif/5iqj1d000001w0ea.html



The Shimadzu Corporation 'LA series' diffraction gratings will be exhibited at the following exhibitions:



1. Exhibition: InterOpt2013

Location: Pacifico Yokohama, Japan

Date: 16-18 October 2013

URL: http://www.shimadzu.com/products/opt/5iqj1d000001sd7l.html



2. Exhibition: SPIE Photonics West 2014

Location: The Moscone Center, San Francisco, California, USA

Date: 4-6 February 2014@

URL: http://www.shimadzu.com/products/opt/5iqj1d000001sd7l.html



About Shimadzu Corporation

Founded in 1875, Shimadzu Corporation, a leader in the development of advanced technologies, has a distinguished history of innovation built on the foundation of contributing to society through science and technology. Shimadzu maintains a global network of sales, service, technical support and applications centers on six continents, and has established long-term relationships with a host of highly trained distributors located in over 100 countries.



Enquiries

Shimadzu Corporation, Device Department

Email: pr-opt@group.shimadzu.co.jp

1, Nishinokyo Kuwabara-cho, Nakagyo-ku, Kyoto 604-8511, Japan

Related