Placement System addresses mid-tier SMT assembly needs.
Press Release Summary: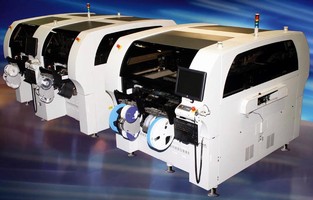 Targeted at mid-tier assembly sector, AdvantisX surface mount platform features linear motor positioning system and is available in single- as well as dual-gantry models empowered by Lightning Head technology. Platform is also offered in several multifunction configurations utilizing Inline7 and Inline4 High Force flexible heads.
---
Original Press Release:

Embrace Change with Universal Instruments' Platforms at APEX 2008



Next week on Booth #1471 at APEX 2008, Universal Instruments will unveil the AdvantisX - a new-generation, low-cost surface mount platform. Universal platforms deliver unsurpassed, consistent, and repeatable performance across a wide range of product requirements. Universal solutions provide the superior flexibility and accuracy required for both current and future market challenges at the best cost of ownership.

Universal is using APEX to introduce the newest member of the Advantis® family, AdVantisX, a platform that is targeted firmly at the mid-tier assembly sector. AdVantisX features Universal's patented linear motor positioning system, a class-exclusive technology making it the most powerful solution available for the growing demands of today's low-cost markets. It delivers exceptional performance while keeping affordability in mind. AdvantisX provides a logical growth path for those 400+ customers worldwide who have placed their trust in the AdVantis Platform since its 2003 introduction.

The AdVantisX lineup includes single- and dual-gantry high-speed models empowered by Lightning Head technology. AdVantisX also delivers several multifunction configurations utilizing the new Inline7 and Inline4 High Force flexible heads.

Just one year ago, Universal Instruments unveiled the GC-120Q - its first truly high speed placement solution - to a highly competitive SMT market.

Based on its renowned Genesis architecture and technology platform, the GC-120Q has gained a successful track record in the high speed mounter category, demonstrating superior pick quality and price-performance with the unsurpassed throughput of the acclaimed Lightning Head.

With a notable market share at the end of 2007, the GC-120Q has gained acceptance across the world in many applications and proven itself as a superior solution. It served to position Universal Instruments as a complete full line solutions supplier. Next week, visitors to APEX will have the opportunity to test drive the GC-120Q at the Universal booth, which will also demonstrate its new software interface - a compelling solution already proven to boost operator efficiency.

"We know that our Genesis technology delivers all the headroom necessary to cope with the packaging transformation happening out there. It successfully addresses the accuracy and quality of pick required for current and next generation chip devices such as 0201 and 01005, as well as the direct die requirements emerging in so many applications today. I see the markets naturally converging toward the technological strengths embodied in Universal Instruments," says Jean Luc Pelissier, CEO of the CBA group.

With broad product mixes that EMS providers must now accommodate, along with increasing technical diversity in the products manufacturers are being asked to build, a reactive approach using dedicated equipment sets is no longer a cost effective solution. Instead, Universal Instruments offers a unique approach delivering innovative equipment technologies that prepare manufacturers for the unknown, allowing them to embrace the uncertainty of future requirements. From midrange to high volume assembly models, Universal platform lines provide unrivaled flexibility, uncompromising performance, best-in-class multifunction capability and as a result, instant surge capacity for maximum productivity at any product mix.

"The Universal manufacturing model provides unparalleled flexibility, perfect for today's diverse requirements," states Scott Gerhart, Director SM Platform Products. "Our platform solutions mean manufacturers no longer need to anticipate future market requirements when committing to a line purchase. They can be confident that they are prepared for the next product they're asked to build, no matter how complex - even with a significant change in customer portfolio." Gerhart continues: "Universal platform lines don't demand hardware reconfiguration to deal with new challenges. You simply change the program and get right back to high-performance production."

About Universal Instruments:

Universal Instruments is a global leader in the design and manufacture of advanced automation and assembly equipment solutions for the electronics manufacturing industry. Universal provides complete assembly lines to EMS Providers, ODMs and electronics assemblers around the world, leveraging its portfolio of compatible and flexible equipment platforms that address the diverse requirements of high-speed chip and multifunction placement applications as well as component insertion. Universal Instruments is headquartered in Binghamton, NY and operates in over 30 countries, with a support network of over 500 people worldwide.

About the CBA group:

The CBA (Circuit Board Assembly) Group is a global leader in the design, manufacture and delivery of disruptive technologies, systems and process solutions for the electronics assembly industry. The CBA Group was created by Francisco Partners in 2006 as a holding of several companies that delivers a complementary portfolio of established brands such as Hover Davis, Universal Instruments and Unovis Solutions. The CBA Group is headquartered in Binghamton, NY and operates in over 30 countries.

Universal contact
Jeffrey Zopff
Universal Instruments Corporation
PO Box 825
Binghamton
NY 13902-0825
USA
Tel: +1 607 779 5364
Email: zopff@uic.com
www.uic.com

More from Packaging Products & Equipment