Placement Machine offers up-front configurability.
Press Release Summary: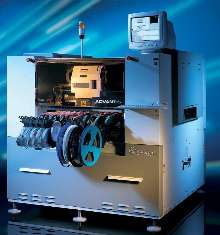 Built on Vantis platform, AdVantis(TM) scalable solution is suited for low-margin assembly applications. Basic in its standard format, machine features single-beam positioning system and is available with various options to make it readily configurable to specific applications. Product is suited for high-mix and high-volume manufacturers who need no more than it takes to perform certain tasks but want option to scale up later if necessary.
---
Original Press Release:

New Advantis(TM) Raises Entry-Level Performance, Reduces Cost-Per-Placement


Binghamton, NY, USA, September 3rd, 2003 - The new Universal Instruments AdVantis(TM) placement machine builds on the value and versatility of the Vantis platform to improve performance and further reduce cost per placement in the mid-range market segment.

AdVantis is designed to reduce the cost of entry for manufacturers needing high mix capability, increased speed and greater accuracy. The machine leverages Universal's platform concept to deliver a very low priced but highly scalable solution ideal for low-margin assembly applications. AdVantis also has a smaller footprint to occupy less shop floor space.

Like its predecessor, the new machine features a single-beam positioning system. To reduce the machine entry price further, AdVantis is more basic in its standard format, while an extensive list of options makes the machine readily configurable. This allows AdVantis to be personalized and means customers pay only for the features required to meet specific production criteria.

"Vantis introduced the time-honoured strengths of Universal - robust equipment, expertise, service and support - to customers in the entry-level and mid-range markets," says Aaron Saxton, Business Development Manager for Mid Range Products at Universal Instruments. "Now, we have taken a step further by offering higher performance at a price that's lower still. It sets new standards for speed, accuracy and cost-per-square-meter in its market," Saxton claims.

AdVantis will be especially attractive to high-mix and high-volume manufacturers whose markets demand the utmost cost-per-placement efficiency in order to sustain narrow margins. Saxton believes that these customers know exactly what they want in a placement machine: "They need no more than it takes to perform the task, but want an option to scale up later if necessary. The up-front configurability and easy future scalability of AdVantis allows us to meet their individual needs more precisely and cost-effectively than ever before."

Universal Instruments is a global electronics productivity specialist, providing innovative circuit, semiconductor and back-end assembly technologies and equipment, integrated system solutions, and process expertise to manufacturers in every sector of the electronics industry.

Universal contact	Protean contact

Karen Moore Watts       Helena Osborn

UIC                     Protean Marketing Communications Ltd

PO Box 825              Communications House, Station Road

Binghamton              Cookham Rise

NY 13902-0825           Maidenhead,

USA                     Berks

                        SL6 9BU, UK

Tel: +1 607 779 4079    Tel: +44 (0)1628 648530

Email: moore@uic.com    Email: helena.osborn@protean.co.uk

www.uic.com             www.proteanmarketing.com
More from Communication Systems & Equipment