PKG Equipment Receives $1.1 Million Pickle Line Tank Order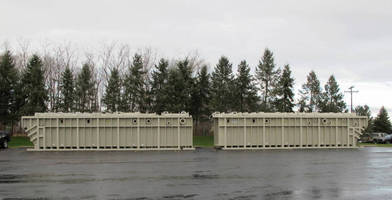 Rochester, NY, Dec. 20, 2010 - PKG Equipment, Inc. announced today that it has
been awarded an equipment supply contract from Siemens Industry, Inc. to fabricate 5
pickling tanks for the No. 3 continuous carbon steel pickle line at Companhia Siderúrgica Nacional's (CSN) Volta Redonda - Rio de Janeiro, Brazil facility. The total value of this order is in excess of $1.1 million.

The order involves fabricating five new pickling tanks from polypropylene to replace
the steel mill's existing 25 meter long rubber and brick-lined steel tanks. All of the new tanks are roughly the same size, 83' x 10'-6" x 9' deep, and are fabricated in two pieces. In addition to the fabrication of five pickle tanks, the order includes the fabrication of one steering roll enclosure, light sensor housing, tank covers and spares.

PKG Equipment will be fabricating the tanks per Siemens' design and specifications.
The equipment is scheduled to ship in April 2011. It will be the largest polypropylene
tank replacement ever performed in South America. This is one of several orders for
thermoplastic process equipment PKG Equipment has received since signing a
manufacturing and supply agreement with Siemens Industry, Inc.

About PKG Equipment:

PKG Equipment is a family owned custom manufacturer of wet and dry process
equipment typically used in the plating, chemical manufacturing, steel manufacturing,
pharmaceutical manufacturing and glass manufacturing industries. Established in 1969,
the company offers complete turn-key service from design to installation and start-up.
PKG employs approximately 40 people. For more information, please visit
www.pkgequipment.com.

More from Agricultural & Farming Products