Sensors / Detectors / Transducers
PJFV Series Vibration Solutions consume 2mA rms of current.
Press Release Summary: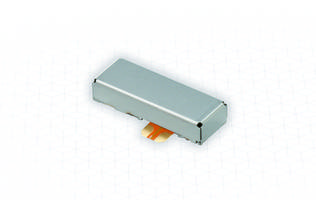 Providing vibration notifications and announcements to wearable devices, PJFV Series Vibration Solutions is housed in flat package with 10.5mm × 3.8mm × 2mm dimensions. Using piezoelectric ceramics, unit comes with rated working voltage of 3V.
---
Original Press Release:
Piezo Vibe Solution Delivers Notifications to Wearable Devices
Murata's PJFV series consumes low-power in small, flat package
Murata Americas today introduced the PJFV series. This miniaturized, low power consuming product leverages piezoelectric ceramics to provide vibration notifications and announcements to wearable devices. It measures just 10.5mm × 3.8mm × 2mm, has a rated working voltage of 3V, and current consumption of 2mA rms.
Light and sound sensing products have historically been used for notification and announcement functions. With the roll-out of the PJFV series, now vibration solutions can be layered in as well. Further, these components are designed to enable ongoing miniaturization and contribute to extended battery life.
"Most vibration solutions for wearable products are currently ERM-based. The PJFV series differs as it offers substantially lower current consumption and better battery life in a smaller package. Murata has a strong history and substantial experience with Piezo materials that we leverage to achieve these features," said Deryl Kimbro, General Manager - Sensor Products, Murata Americas.
The solution will be on display at Sensors Expo & Conference in San Jose from June 27-29, booth #539. Those interested in attending the show can use code 619L for a discounted rate. More information can be found at www.murata.com.
About Murata
Murata Manufacturing Co., Ltd. is a worldwide leader in the design, manufacture and sale of ceramic-based passive electronic components and solutions, communication modules and power supply modules. Murata is committed to the development of advanced electronic materials and leading edge, multi-functional, high-density modules. The company has employees and manufacturing facilities throughout the world. For more information, visit Murata's website at www.murata.com.