Piston Ring Assembly System suits large diesel pistons.
Press Release Summary: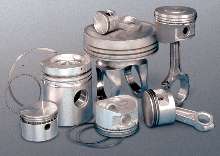 Fully automatic system, with gantry pick-and-place, employs single-step loading of oil control ring and coil spring. System handles complete assemblies in one, 3-stop operation. During ringing process, piston does not touch any reference surfaces and no machine part touches piston dome. Expanding cone maintains full contact with ID of ring and allows rings to be opened gradually and consistently. Rings can be loaded during machine's 21 sec cycling time.
---
Original Press Release:

New Automatic Piston Ring Assembly with Pick-and-Place From City Machine is Proving Ideal for Large Diesel Pistons


MUNCIE, IN (June 2, 2003) - The new fully automatic Piston Ring Assembly System with gantry pick-and-place is proving ideal for automatic ringing of large diesel pistons. It is the only automatic piston ring assembly on the market that features single, rather than two-step, loading of the oil control ring and coil spring, a major innovation in piston ring assembly. The new system handles complete assemblies - piston connecting rod, piston pin and skirt assemblies installing the fire ring, compression ring and oil control ring assembly in one three-stop operation.

In addition, during the ringing process the piston does not touch any reference surfaces and absolutely no machine parts touch the piston dome, a critical feature that eliminates damage to the dome during the process.

An expanding cone, a proprietary City Machine innovation, maintains full contact with the ID of the ring and allows the rings to be opened gradually and consistently. The expanding cone eliminates the three-point contact and the pushing and pulling on the ring usually found in other piston ring loaders.

Another key advantage of the new system is that rings can be loaded while the machine is cycling, so the system need not be stopped at any point. The system's 21-second cycle time offers fast and reliable installation of the piston rings for even the largest diesel pistons.

The gantry or articulated robot that positions the piston and is standard on every machine offers a graphic user interlace to operate the system.

The system is the newest evolution of City Machine's time-tested semi-automatic and automatic piston ring assembly machines.

Established in 1935, City Machine Tool and Die has grown into a global supplier of manufacturing systems. With unique mechanical and electrical engineering capabilities, City Machine designs and builds manufacturing solutions that span world-class special machines, fixture programs, production parts and engineering.

To find out more about the ways the new Fully Automatic Piston Ring Assembly System with Gantry Pick-and-Place can solve the toughest challenges, contact City Machine. 1302 E. Washington St., Muncie. IN 43707, phone (765) 288-4431, fax (765) 286-0217 or visit our website at www.CityMachine.com.

More from Electronic Components & Devices