PIRTEK Sterling Heights Rebuilds Power Units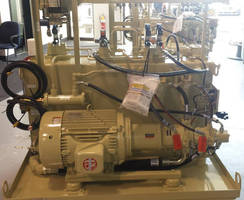 Detroit, MI - PIRTEK has been servicing the Detroit area for over 15 years with Hose Service Supply Centers in Madison Heights, Sterling Heights and Westland. On May 1st, a fourth location in Wixom, MI opened, growing their on site hose service fleet to 20 Mobile Service Units serving southeastern Michigan.



In the fall, drivelines manufacturing engineer contacted Detroit's PIRTEK Director of Sales and Marketing, John Martin, to request a quote. The client stated he had 4 old Hydraulic Power Units to be re-built. He was inquiring if this was something PIRTEK was capable of doing.



That same day the Detroit area PIRTEK team went to the company to look at the project and meet with their engineers. The following day, a team including PIRTEK Mobile Sales and Service Technician (MSST) Jason Mitchell and Assistant Operations Manager Carl Foster took a complete inventory of each unit in order to prepare a comprehensive quote. Within a week, the company issued PIRTEK a purchase order to begin the job.



The company designs, manufactures and distributes driveline systems and service parts for several types of vehicles. The hydraulic power units are a critical piece of equipment in their production process. They supply hydraulic power to the friction welders which build the drive shafts. The units were running extremely hot, causing the company to make repairs frequently, sometimes daily. The PIRTEK team was challenged with resolving this issue. PIRTEK requested that the company ship the first two power units that they utilized for spare parts to PIRTEK Sterling Heights.



Once the units arrived, MSST Jason Mitchell did a complete tear down of the units. Each component such as valves, switches, gauges, electric motor, motor mounts, pumps, chiller, hydraulic tubes and hoses were removed and replaced with new / remanufactured components. The motors were cleaned, inspected and rewound. The pumps and motors were calibrated to factory specs and included the certification paperwork for verification. MSST Mitchell also upgraded the chiller to resolve the overheating issue. The units were finally cleaned, prepped and repainted. Upon completion, the first two units were shipped back to the company and installed with PIRTEK's assistance within 4 weeks. The third and fourth units were then delivered to PIRTEK Sterling Heights and were completed and reinstalled in a timely manner. This process was described best by PIRTEK Sterling Heights Operations Manager Ed Cushing, "Performing a job of this magnitude requires keen attention to detail. MSST Mitchell was in charge of the workmanship on this project and was the complete constant, ensuring these units were completed correctly and on-time."



The project is a testament to the Detroit PIRTEK team's technical knowledge and loyalty towards building a strong relationship with their customers.