Pipette Tracking Software improves quality control in labs.
Press Release Summary: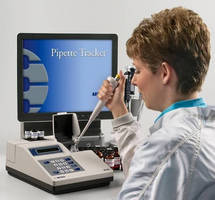 Integrated with Artel PCS® (Pipette Calibration System), Pipette Tracker(TM) v3.3 provides total management system for QC of any pipette population. Labs can set action limits, and proactive notifications are sent via email concerning calibration or preventive maintenance. Calibration data is collected directly from Artel PCS and stored in secure databases, facilitating report generation and Title 21 CFR Part 11 compliance. Software also maintains information on each maintenance event.
---
Original Press Release:

Artel Unveils Updated Version of Pipette Tracker(TM) Software



Updates Ensure Faster and More Efficient Data Reporting in Laboratories

Westbrook, ME - Artel, a world leader in liquid handling quality assurance, recently launched version 3.3 of its Pipette Tracker(TM) software. Tightly integrated with the Artel PCS® (Pipette Calibration System), Pipette Tracker provides a total management system for quality control of any pipette population.

The updated software brings even more convenience to laboratories by proactively notifying quality control managers and laboratory technicians through email when pipettes are due for calibration and/or preventive maintenance. The updated Artel Pipette Tracker software provides more tools to analyze pipette calibration and maintenance records, making it easy to identify poor performance trends early on. The software allows laboratories to set action limits, which will alert users when a pipette is nearing its individual performance specifications, allowing preventive maintenance to be performed before pipette failure occurs.

All calibration data is collected directly from the Artel PCS and stored in secure databases, facilitating easy report generation and compliance with Title 21 of the Code of Federal Regulations (CFR) Part 11, which defines the criteria under which electronic records and electronic signatures are considered to be trustworthy, reliable and equivalent to paper records. Aside from the usability updates, the Artel Pipette Tracker version 3.3 is also faster and able to manage larger pipette inventories than earlier versions.

"Regardless of research focus, pipette performance is crucial to data integrity," said Dr. Bjoern Carle, Product Manager, Artel. "With the ability to analyze the trending of pipette performance, and the possibility to alert users once the performance approaches specified tolerance limits, Artel Pipette Tracker enables laboratory personnel to take action before a pipette fails."

In addition to recording each pipette's calibration data from the PCS, Pipette Tracker version 3.3 maintains information on each preventive maintenance or repair event. This allows the laboratory to generate a complete history of calibration and maintenance data for each pipette with the click of a button, and receive early warnings if a pipette approaches its tolerance limits. The pipette calibration data can be analyzed in a variety of ways to generate customizable reports, including plotted graphs for easy visualization of the data. Pipette Tracker makes it possible to manage pipettes of any volume range with, including large-volume pipettes. This feature allows the user to manage the entire pipette population of an organization in a single software program.

Additionally, Pipette Tracker allows the user to print calibration labels and inventory labels for their pipettes. The software can also be used to acquire and maintain records of pipetting performance assessments and training of laboratory technicians, which may be required based on the regulatory framework under which the laboratory operates.

"We are always looking for new applications to make our systems as informative and easy to use as possible," adds Dr. Carle. "This update is part of our ongoing efforts to provide laboratories with resources to ensure quality results by better managing their complete pipette population."

Artel will demonstrate the latest version of its Pipette Tracker software in conjunction with the Artel Pipette Calibration System at its booth (#4039) at the Pittcon Conference 2011, March 13-18 in Atlanta, Georgia.

About Artel
Artel is the worldwide leader in liquid handling quality assurance. Artel manufactures the most accurate, precise and easy-to-use systems for ensuring data integrity in any process requiring liquid volume measurement. Artel systems, based on proprietary Ratiometric Photometry, conform to ISO 8655-7 and provide results traceable to national and international standards to ensure reproducible data and regulatory compliance. In addition, Artel provides liquid handling quality assurance support and consultation services including on-site Pipetting Technique Training and Quality Management Certification for pipette users and laboratory managers, and Liquid Handler Performance Verification services for automated laboratories. Since 1982, Artel technology has been proven in daily use in thousands of laboratories including pharmaceutical, clinical, forensic, public health and environmental. Leading institutions such as Amgen, ARUP, Bristol-Myers Squibb, Celgene, Centers for Disease Control, DuPont, Eli Lilly, FBI, Genentech, Genomic Health, Mayo Clinic, Memorial Sloan-Kettering Cancer Center, Merck, Pfizer, Procter & Gamble and U.S. FDA depends on Artel technology to help them meet their objectives for quality and productivity. For more information, contact Artel at 25 Bradley Drive, Westbrook, ME 04092; Tel: 207-854-0860; Fax: 207-854-0867; Website: www.artel-usa.com.

More from Fluid & Gas Flow Equipment