PipeMan Products Now Presents Wheeler Rex Roll Groovers for Pipe Threading Machines
Press Release Summary: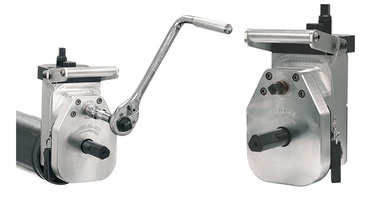 The Wheeler Rex Roll Groovers are available in 6600 and 8400 series models that can groove 1-1/4 to 6 in. and 1 to 6 in. Schedule 10 and Schedule 40 steel pipe respectively. The units are offered with screw design that reduces operator fatigue. The 6600 groovers weigh 20 lb whereas the 8400 series groovers weigh 33 to 35 lbs.
---
Original Press Release:
Now Available at PipeManProducts.com – Wheeler Rex Portable Roll Groovers
Concord, CA October 2, 2018 – PipeMan Products, Inc. is now a distributor of the Wheeler-Rex 6600 Manual and 8400 Portable Roll Groovers and for use with Pipe Threading Machines.
The Wheeler-Rex 6600 Series Manual Model can Roll Groove 1-1/4" to 6" Schedule 10 and 40 Steel Pipe. This small but powerful unit can be used manually or in place when powered by Wheeler-Rex Model 6090, 7090, 8090, 6790 or Rigid 300 Pipe Threading Machines. Weighing only 20lbs., it uses heavy duty bearings, hardened and ground shaft and rollers. Optional 2"-8" Copper Tubing Kit available.
The Wheeler-Rex 8400 Portable Series converts your threading machine into a Roll Groover! Grooves 1" to 6" Schedule 10 And Schedule 40 steel (1.0" Sched 10/40 and 2"-6" Copper Tube roller kits available) The screw feed design minimizes operator fatigue and operation is safer. Shorter lengths of pipe stay on rollers without operator assistance. This was designed to fit the Wheeler-Rex Models 6090, 7090 and 6790 and the Rigid Models 300 and 300 Compact threading machines. Wheeler–Rex 8400 Series Portable Roll Groovers are lightweight at 33 to 35 lbs. and are easily mounted onto the threaders. For added convenience and time saving features, the carriage does not need to be removed for installation.
Contact:
Steve McCallister,
National Sales Manager
Email: Steve@pipemanproducts.com
TF: 877-PIPEMAN (747-3626) or local: 530.221-3600
More from Agricultural & Farming Products