Pipeline Closure is engineered for safe, secure sealing.
Press Release Summary: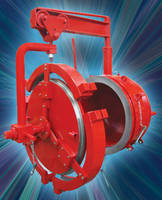 Intended for sealing pipelines and vessels, Yale® SafeClamp(TM) Closure is side operated to increase safety without increasing required effort or time. Opening or closing product typically takes operators less than 90 sec, and triple redundancy latching system features external clamp ring, external bolts, and pressure alert device with actuator disk. Other features include secure closure sealing and bidirectional hinge.
---
Original Press Release:

Yale® SafeClamp(TM) Closure Provides Safe and Secure Pipeline Sealing



Opens and Closes in Less Than 90 Seconds

Willis, Texas - R&M Energy Systems offers the Yale® SafeClamp(TM) Closure featuring a patent pending, innovative external clamp ring design for safe and secure sealing of pipelines and vessels. Yale® SafeClamp(TM) closures provide quick access, easy operation and exceptional operator safety.

The operation of the Yale® SafeClamp(TM) closure is accomplished with the operator standing at the side of the pipeline or vessel closure which raises the level of operator safety without increasing the effort or the amount of time required to operate the closure. It typically takes operators less than 90 seconds to open or close the closure door.

The Yale® SafeClamp(TM) closure features a triple redundancy latching system. This safety system utilizes:

- An external clamp ring
- External bolts
- A proprietary pressure alert device (PAD) with actuator disk

In addition to the enhanced safety characteristics and the quick and easy operation advantages, the Yale® SafeClamp(TM) closure incorporates additional product features that deliver benefits that are recognized and appreciated by closure operators:

- Secure closure sealing
- External clamp ring design for safe, secure, easy operation
- Bidirectional hinge for added application versatility
- Meets the highest industry standards

From materials of construction to advanced manufacturing processes, the Yale® SafeClamp(TM) closure is a quality product that provides reliable sealing and consistent functionality.

R&M Energy Systems, part of the Fluid Management Group of Robbins & Myers, Inc., manufactures and markets a wide variety of products for use in the discovery and recovery segments of the oil and gas industry. R&M Energy Systems' products include the following: Hamer® Line Blinds; Hercules® Wellheads, Valves, Stuffing Boxes, and artificial lift accessories; Magnum® Needle Valves; standard and customized Moyno® Down-Hole Pumps; Moyno® Guardian(TM) Variable Speed Drives; Moyno® Surface Pumps, Moyno® Tri-Phaze Systems; Moyno® and Moyno® ERT(TM) Power Sections; Moyno® HTD(TM) High Temperature Down-Hole Pumps; Moyno® ElectroFlo(TM) Generators; New Era® Rod Guides; Resun® Plug Valves; RODEC(TM) Tubing Rotators, artificial lift accessories and down-hole tools; StayTite® Swing Joints; Yale® Closures and Hammer Unions; and SENTRY® Closures. With facilities in the U.S., Belgium, Venezuela, Australia and Canada, R&M Energy Systems readily serves customers worldwide.

Please forward Canadian reader service inquiries to Paul Dittrich, R&M Energy Systems Canada, 510 - 5th Street SW, Calgary, Alberta T2P 3S2, Phone: (403) 264-2995 Fax: (403) 264-2204 E-mail: fmg.marketing@robn.com


More from Agricultural & Farming Products