Pipeline Analytics Software is optimized for tablet PC.
Press Release Summary: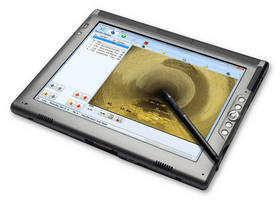 Designed for touchscreen data entry on tablet PC, WinCan ProTouch provides everything needed to document pipe inspections made with video crawler, push camera, or zoom survey camera. Solution generates basic manhole-to-manhole reports that include schematics and captured images, can export inspections to viewer software, and uses OSD technology to recognize on-screen text. Compatibility with WinCan™ v8 enables utilization of its reporting, querying, GIS features, and standards support.
---
Original Press Release:

Pipeline Analytics Debuts WinCan ProTouch, Affordable Pipe Inspection Software Optimized for a Tablet PC



Pittsburgh, Pennsylvania–Designed for touch-screen data entry on a tablet PC, new WinCan ProTouch has everything an operator needs to document pipe inspections made with a video crawler, push camera or zoom survey camera. It's ideal for anyone who needs to assess the condition of collection system assets, but for whom the cost or field-portability of full-blown WinCan is an issue. Of course, ProTouch data is fully compatible with WinCan v8, which means an operator can always transfer the data to exploit v8's enhanced reporting, querying, GIS features and standards support.



"ProTouch is ideal for plumbers and small municipalities, but it's also the perfect platform for larger organizations whose field crews need a simple, portable data collection tool that feeds directly into WinCan v8," says Mike Russin, Account Manager at Pipeline Analytics. "This way, data collection is streamlined, yet v8's advanced analytics, reporting, and mapping capabilities remain available back at the office."



ProTouch distills the most popular functionality of WinCan v8 into a simple touch-screen interface, one with all the tools necessary to document manhole, mainline and lateral inspections. ProTouch generates basic manhole-to-manhole reports that include schematics and captured images. It also can export inspections to freely distributable viewer software, so clients can review video alongside section detail.



Data captured by ProTouch uploads seamlessly to WinCan v8 for advanced reporting, filtering/querying, GIS integration, and standards compliance. (ProTouch supports standard defect catalogs.) ProTouch works with all common video inspection hardware, including video crawlers, push cameras, and zoom survey cameras. Using OSD technology, it can even recognize on-screen text, so in most cases no serial connection is needed to acquire distance data.



WinCan ProTouch is available immediately from Pipeline Analytics and its authorized resellers.



About WinCan. WinCan™ was the original pipe inspection and asset management software when it entered the market 15 years ago. Today, it's the most trusted pipeline software worldwide, thanks to continuous innovation and exceptional support. WinCan™ transforms raw inspection data into the intelligence municipalities and contractors need to make critical maintenance decisions. The software's measurement tools help quantify defects, and sophisticated search capabilities filter observations by any combination of criteria. Its report generator automatically summarizes inspection findings using a standard or user-defined template. Native support for GIS mapping, side-scanning and 3D are among WinCan's™ most innovative features.



About Pipeline Analytics. WinCan™ pipe inspection and asset management software is supported and distributed in the Americas exclusively by Pipeline Analytics. As the only WinCan™-certified software consultancy, Pipeline Analytics™ is uniquely positioned to deliver support, training, customization and integration with all common municipal databases and mapping software programs. Pipeline Analytics™ works directly with end users, and also with inspection equipment manufacturers, helping them deliver integrated hardware/software solutions that allow their customers to document, analyze and report pipeline condition. Visit Pipeline Analytics™ online at www.pipelineanalytics.com

More from Electronic Components & Devices