Pipe Robot SIGMA HD-LR: Everything You Need for a Long Range Inspection In One Unit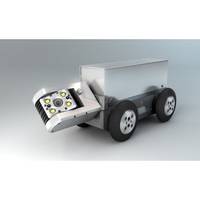 The long range Pipe Robot SIGMA HD-LR is the optimal unit for long distance inspections, as it can travel up to 6,560 feet in a single run thanks to its interchangeable LiFePO4 battery which allows to reduce the thickness of the cable and saves energy.
The Pipe Robot has two HD video cameras, a frontal one which provides endless pan and tilt, as well as 120x zoom, and a back one which provides a view from the rear of the vehicle, allowing full control of the inspection. Both cameras provide 1080p resolution and a 62 degree field of view with a sensitivity of 0.5lux. The inspection is illuminated by built-in ultra-bright LEDs 4000LM. The construction of the crawler is corrosion proof, equipped with a waterproof rear connector and a Tamron Full HDTV CMOS image sensor with Optical Vibration Compensation. An internal pressure sensor is also included, along with a scratch proof sapphire crystal lens image sensor protector. Furthermore, the operator can choose between manual or auto focus, with a range from 10mm to infinity.
The robot itself is made out of stainless steel and runs on two 160 watt motors for greater power. Interchangeable tracks and wheels sets of different diameters can be provided by special request. The crawler is waterproof IP 68, making it a great tool for navigating leaky pipes. In addition, the robot has an inclinometer, a gyrometer and an internal pressure monitor. An optional 512Hz sonde can be included.
Two touch screen monitors, a main one of 17.3" and a control one of 7", allow to keep track of the inspection. Two joysticks and a touch screen menu let the operator to control it. The unit's motorized reel is capable of paying out to a working length of 2,000m (6,560') and retracting.
The Pipe Robot SIGMA HD-LR is a great choice for long-distance inspections. It can travel for long distances at a time and provide clear, detailed images of the inspection.
More from Transportation Industry Products