Tube / Pipe / Hose Cutters and Cutting Machinery
Pipe Cutter is computer controlled.
Press Release Summary: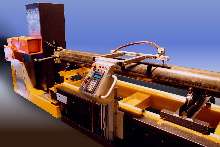 Model CL-124 cuts complex pipe-ends, multiple holes, and contoured pipe-fittings using plasma or oxy-fuel. Heavy-duty industrial computer runs under extreme temperature, humidity, and vibration with no PCI cards. System, programmable via LCD computer menu, allows user to set up holes, slots, rectangles, and custom cuts. Flash memory card stores thousands of patterns that can be recalled later for whole or partial sequencing. Surface cutting speed is constant on all angles.
---
Original Press Release:

Watts Specialties Introduces the new CL-124 Computer Controlled Pipe Cutting Machine


November 25, 2002 - Milton, WA USA -

Watts Specialties, Inc. has just released its newest pipe cutting system for the fabrication, construction and job-shop pipe-cutting market. The CL-124 is a fully computer-controlled machine designed to cut complex pipe-ends, multiple holes and contoured pipe-fittings using plasma or oxy-fuel.

This is the newest generation of pipe cutting machines from Watts Specialties, Inc. A heavy-duty industrial computer designed to run in extremes of temperature, humidity and vibration controls the CL-124. There are no fragile PCI cards (typical in PC computers) to corrode, come loose and fail.

The CL-124 uses the newest computer motion control systems and modular design concepts, which allow significant price reductions. The easily programmable system is reported to be accurate, reliable, easy-to-maintain and easy-to-operate. By using the simple LCD computer menu the user can set up holes, slots, rectangles or other custom cuts.

Cutting shapes can include T's, full Y's, K's, straight cuts, miters, 90 degree saddles, mitered saddles (laterals), off-set saddles, holes, saddle holes, mitered saddle holes, slots, rectangles, and crosses. All of these can be set up with minimal training and are easily repeated. Once a pipe is set up with multiple operations, the entire job can be saved on the rugged flash memory card for recall later. Literally thousands of patterns can be stored on the machine. Floppy disks and computer network connections are also available.

Multiple holes and cuts are made in perfect dimensional relationship to one another. The system also allows the operator to reload a partial job and retrace the steps back to where it was left off.

Unlike most mechanical systems, the surface cutting speed remains constant even on steep angles. This computer precision assures fast cutting speeds and a smooth cut. Piercing is done off the cutting line for a clean edge.

The unique drive system is based on a gimbaled clamping system that floats vertically. This provides smooth positive rotation even with badly oval or curved pipes. This system also prevents the pipe from moving away from the drive clamp or "walking".

A Typical Operation Sequence:

o Unlock and fully retract Floating Clamp Head
o Place pipe on carriage at carriage midpoint
o Move Clamp Head to pipe and apply clamp
o Enter programmed job number into menu
o Turn on gas and/or plasma power
o Push Start Button
o Machine will index to proper pierce point and pierce in scrap area
o When pierce is complete push Cut Button
o Cutting path will move to the cutting line and maintain constant speed until complete

More from Explosives, Armaments, and Weaponry