Pipe Crawler offers extended crawl range up to 1,000 ft.
Press Release Summary: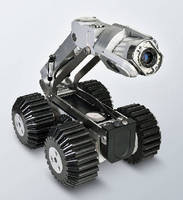 Featuring steerable 6-wheel drive and portable 3-piece layout, ROVVER X(TM) has bolt-on carriage that let users inspect 6-48 in. pipes. Touchscreen control pendant captures days worth of MPEG video and JPEG images, and logs observations for direct upload to WinCan. Twin multifunction joysticks keep operation natural, while macros automate inspection routines. Additional features include detachable remote-operated camera lift, 3 illuminated onboard cameras, and integrated sensor package.
---
Original Press Release:

New ROVVER X(TM) Crawler Inspects Farther into Pipe, Incorporates WinCan-compatible Touchscreen Control Pendant



Randolph, New Jersey - Steerable 6-wheel drive, adaptable architecture, portability-these innovations have made ROVVER the most trusted brand in pipe inspection, and today the all-new ROVVER X enhances them with an extended crawl range (1000' with options up to 1650'), ultra-portable 3-piece layout, and a powerful, WinCan-compatible touchscreen control pendant with digital recording. What's more, a bolt-on carriage broadens ROVVER X's stance and raises its height, letting you inspect 6-48" pipes with the camera centered using just a single crawler.

The new pendant captures days' worth of MPEG video and JPEG images, and logs observations for direct upload to WinCan. Twin multifunction joysticks keep operation simple and natural, while handy macros automate everyday inspection routines. The pendant accepts USB media, and connects via ROVVER-Link for remote diagnostics and firmware updates.

ROVVER X also delivers several other firsts for a mid-size ROVVER crawler: a detachable remote-operated camera lift, three illuminated onboard cameras (forward pan/tilt/zoom, cable view and elevated rear-view), integrated sensor package (sonde, dual lasers, inclination, roll), and concurrent control for all system functions. A high-power, high-torque drive train, proportional steering and zero-radius pivot further enhance ROVVER X's agility.

Both pendant and crawler plug directly into the reel-no control unit is required, which makes the system exceptionally portable and simple to set up. To maximize range, the reel uses light yet strong cable (0.03 lb/ft with 1000 lb break strength), and continuously monitors cable tension to minimize drag on the crawler.

"ROVVER X continues a 20-year legacy of innovation," says Richard Lindner, President of Envirosight. "We've delivered incredible functionality in the base package, and we've also given users the ability to grow into advanced capabilities like lateral launch, side-scanning and laser profiling with simple add-on components. The value is just tremendous."

As with other Envirosight crawlers, a compact, steerable 6-wheel drive helps ROVVER X navigate past debris and obstructions, climb offsets, and pass through inverts and curved access points. The crawler's modular design allows quick reconfiguration for any combination of pipe size, material and condition.

About Envirosight LLC

Randolph, New Jersey-based Envirosight, LLC provides video pipeline inspection solutions to municipalities, contractors, departments of transportation, and civil/environmental engineers. Envirosight is committed to ongoing innovation, delivering products that enhance user productivity and inspection detail. Envirosight serves customers through a trained network of regional sales partners who deliver localized support and expertise with rapid turnaround. All Envirosight technical employees hold NASSCO PACP certification. Visit Envirosight online at www.envirosight.com

More from Optics & Photonics